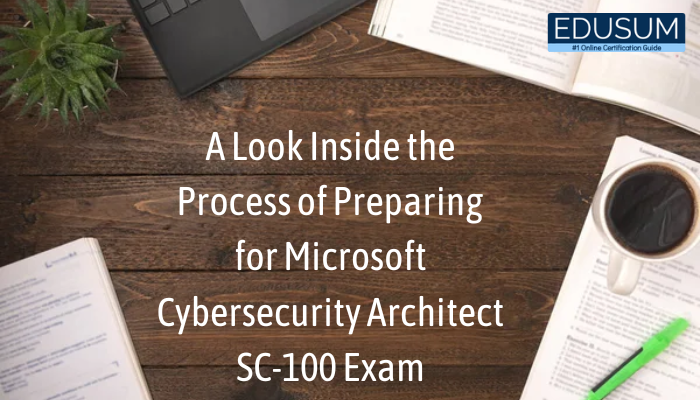 Suppose your job involves you in the Security, Compliance, and Identity space and demands high skill levels. In that case, the Microsoft Certified Cybersecurity Architect Expert certification can help you confirm your knowledge and skills in designing and developing the cybersecurity strategy to secure your organization's mission and business processes beyond all aspects of the enterprise architecture. To obtain Microsoft Certified - Cybersecurity Architect Expert certification, one needs to pass the Microsoft Cybersecurity Architect SC-100 exam and only one of the following four prerequisites security exams:
Option 1: Exam SC-200: Microsoft Security Operations Analyst.

Option 2: Exam SC-300: Microsoft Identity and Access Administrator.

Option 3: Exam AZ-500: Microsoft Azure Security Technologies.

Option 4: Exam MS-500: Microsoft 365 Security Administration.
If you are preparing for the SC-100 exam, you have come to the right place.
About the Microsoft Cybersecurity Architect SC-100 Exam
Microsoft is developing its learning programs to assist you and your career keeps abreast of today's competitive IT environments. The updated role-based certifications will help you keep pace with present business needs. Microsoft certifications offer what you need to become an expert, demonstrate your expertise to organizations and colleagues, and get the acknowledgment—and opportunities you've achieved.
The SC-100 Microsoft Cybersecurity Architect exam is geared toward applicants with a broad range of knowledge in various areas of Microsoft Security and who can design and enforce security solutions. You will also be expected to become familiar with hybrid and cloud-only environments and implementations. The exam is an expert-level exam, so it is a challenging exam.
Microsoft Cybersecurity Architect SC-100 Exam Details
The total number of questions varies from 40-60.

The questions in the exam come in scenario-based single-answer questions, multiple-choice questions, arranged in the correct sequence type questions, drag & drop questions, mark review and drag, and drop format.

You are given 120 minutes to finish the entire test.

The exam can be taken in the English language.
Microsoft SC-100 Exam Objectives
Design a Zero Trust strategy and architecture (30-35%)

Evaluate Governance Risk Compliance (GRC) technical strategies and security operations strategies (20-25%)

Design security for infrastructure (20-25%)

Design a strategy for data and applications (20-25%)
How to Pass Microsoft Cybersecurity Architect SC-100 Exam?
Microsoft SC-100 exam is a little challenging, and not everyone can pass it on the first try. Here are some tips to help you pass your Microsoft SC-100 exam.
1. Explore the SC-100 Exam Details
As you sit and prepare for the SC-100 exam, it is better to go through every minor detail about the exam. Make sure that you are conversant with the time duration, the number of questions you are expected to answer, and every other little detail that would help prepare for the exam. This technique would help you answer more questions as you prepare.
2. Go Through the Exam Topics
The topic list is the second thing you must be aware of. Go through this list with due attention and note the areas that would be easy for you to score. The list also includes information regarding the percentages of every section that would help you prepare accordingly. Make sure that you mark all the essential chapters for you and the easiest ones that you should learn first.
3. Obtain the Appropriate Study Resources
After going through the exam topics, the next step is to get the appropriate study resources that best define them. There are multiple resources that you can use to learn the exam concepts.
4. Microsoft Instructor-Led Training
Microsoft provides an Instructor-led training course, "Course SC-100T00: Microsoft Cybersecurity Architect", an online learning and training course conducted by experts. This Microsoft Cybersecurity Architect SC-100 training is a four-day instructor-led course that will improve your skills. Most importantly, this will help you a lot throughout the preparations. Besides, you will get advantages such as flexible scheduling and quick answers.
5. Take Microsoft SC-100 Practice Tests
This is an essential part of any Microsoft exam preparation. Take practice tests to gauge your knowledge of the SC-100 exam topics you have learned. The Edusum website provides the best Microsoft SC-100 practice questions to boost your exam preparation. The best part of taking a practice test on this site is that it offers time-bound practice tests. This puts you in the actual exam environment, and you will be better equipped for the exam day. Review the result and ensure you achieve the best scores possible before your exam date.
Conclusion
This article is meant to help you quickly succeed in your Microsoft Cybersecurity Architect SC-100 exam by giving you the top tips for your exam preparation. We are sure that you will achieve the Microsoft Certified - Cybersecurity Architect Expert certification if you follow the information on how to prepare for the exam and visit the Edusum website. All the Best!!