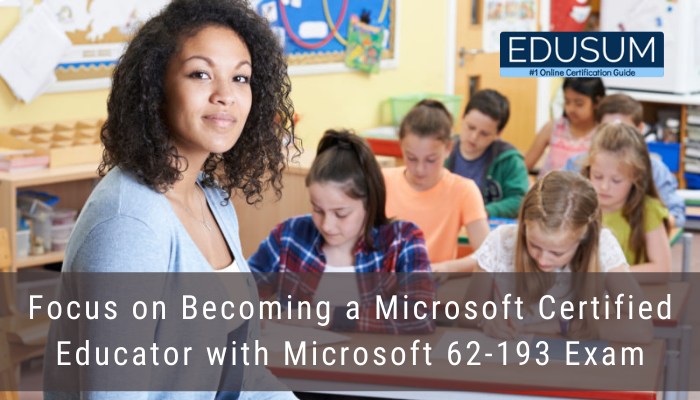 Microsoft Technology Literacy for Educators 62-193 is one of the most important exams that Microsoft has come out with in a long time. With this Microsoft Certification, you will learn how to get your computer to do just about anything that you would want it. The MCE Technology Literacy for Educators certification confirms that educators have the universal educator technology literacy competencies required to give a rich, innovative learning experience for students. MCE certification is best suited for educators-in-training, faculty of teacher training colleges, and in-service educators.
Microsoft 62-193 Exam Information
Microsoft Certified Educator: Technology Literacy for Educators certification exam is an intermediate-level certification exam. It includes all the aspects of depth in the technical questions and delivery methodology of official Microsoft certification by following the complete exam syllabus. Microsoft 62-193 exam questions will give you the most practical experience in the real-world exam.
Microsoft 62-193 Exam Details:
This exam contains multiple choices, multi-selection, and true or false questions.

Passing Score: 70

Exam Time Limit: 90 Minutes

No. of Questions: 40-60
The Microsoft Technology Literacy for Educators (62-193) exam does not evaluate skill in utilizing certain technology tools but whether an educator or administrator perceives how to absorb ICT tools into the six content domains listed below. This exam is meant to prove these skills in pre-service and in-service educators.
Microsoft 62-193 Exam Syllabus Topics:
Facilitate Student Collaboration

Facilitate Skilled Communication

Facilitate Knowledge Construction

Facilitate Self-Regulation

Facilitate Real-World Problem Solving and Innovation

Facilitate student use of Information and Communication Tools (ICT)

Use ICT to be an Effective Educator
How to Get Ready to Ace Microsoft 62-193 Exam?
Microsoft exams confirm on-the-job exposure and product understanding. Moreover, to measure the willingness to take Microsoft 62-193 exam, the applicant can use this preparation guide to assess the understanding of the skills gauged by the exam. Also, determine the topics they acknowledge well and the topics in which the applicants require more knowledge. Furthermore, to help the exam takers refresh their skills in certain areas. Also, this article is created to help applicants find materials to study and tips succeed in the Microsoft Technology Literacy for Educators 62-193 exam.
Best Ways to Prepare for Microsoft Technology Literacy for Educators 62-193 Exam:
Everyone learns in a different way. But the tips and resources mentioned below are the most useful and commonly used. You can try out all of them if you have sufficient time or pick out the ones that fit you best.
1. Training Course
This is the option that most exam takers inevitably take when preparing for Microsoft 62-193 exam. Many online platforms provide a training course for this Microsoft exam. Make sure you enroll in a training course offered by a reliable platform.
2. Study Guide
You can easily find a study guide for Microsoft 62-193 exam. The best part of learning from the study guide is that it involves all the topics in detail. If you get a hold of them, you will be able to get a solid grasp of complete theories and establish a strong foundation.
3. Online Videos
Video tutorials are the best option, even for the laziest of applicants. It's because you don't have to do much when studying through online videos. And, unlike with study guides, you can learn the difficult topics effortlessly, within a short time. YouTube is the most sought-after platform for tutorial videos in this day and age; there, you can find a lot of options to select from.
4. Find a Study Partner
At times, studying for an exam can be boring and ineffective. You may find your mind wandering about the most irrelevant things and wasting time. In such cases, having a study partner will help. You can get together with your study partner and discuss tough topics, share resources whilst having a bit of enjoyment.
5. Take Up Microsoft 62-193 Practise Test
Practice test is another crucial element in the Microsoft 62-193 exam preparation guide. Further, the candidate can choose to practice tests from various websites. Additionally, the free practice test is also available on many websites. This step can guarantee the applicant about their preparation and identify their weak areas and improve them.
6. Avoid Microsoft Exam 62-193 Brain Dumps
Say no to braindumps at any cost. They are not legal in the context of taking Microsoft exams. So, Exam 62-190 brain dumps will not equip you with the knowledge you require to use in real-world scenarios. Moreover, if you're found to be utilizing one when preparing for or sitting the Microsoft 62-193 exam, you will be straightaway disqualified.
7. Ace the Exam
Having prepared appropriately for the Microsoft 62-193 exam, the next step is to take it. First, sign up for a Microsoft account if you don't have one because you will require to put in some details to register and schedule your exam at the Pearson VUE platform. If you have an account, schedule your exam at Pearson VUE. However, you need to pay the 62-193 exam cost $165. After scheduling your exam, wait for a day and go-ahead to pass it.
Why Should You Use Microsoft 62-193 Practice Test?
After going through all the available study resources, you can feel confident, but Microsoft 62-193 practice tests will check your actual knowledge and skills. By using this type of preparation, you will become familiar with the different questions that can be asked in the real exam. It will also help you develop a plan on attempting each type of 62-193 exam question, building a strategy, managing time, working on your weak areas, optimizing your efforts, and feeling the vibe of the real certification exam to overcome anxiety.
Why Earn Microsoft Certified Educator (MCE) - Technology Literacy for Educators Certification?
Here are the top two reasons which can encourage you to become a Microsoft Certified Educator. They include
As an instructor or teacher, you should be all about trends and trying to know what's in trend to better broaden your scope of knowledge, particularly in the digital world.

Learning is a lifelong process, and every educator makes an effort to learn even more. One can acquire more ground in education and learning. Though, while they seek more knowledge, time is an obstructive factor.
Concluding Words
Microsoft Technology Literacy for Educators 62-193 exam will authenticate your global educator technology literacy skills. Moreover, this will help you understand the concepts and enhance your skills. After that, the thing that concerns is to gauge your preparation level with the Technology Literacy for Educators 62-193 practice tests. You require to work on your test-taking skills. Additionally, you need to do some research to gather the required resources. This will help you throughout the exam preparation. After that, nothing can stop you from passing this exam with a flying score.