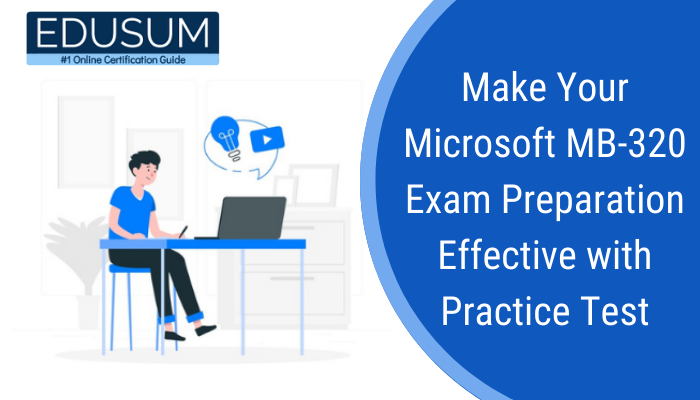 The MB-320 Microsoft Dynamics 365 Supply Chain Management, Manufacturing exam confirms your skills as a Functional Consultant. It unlocks doors to a new field in your professional career. This exam allows you to prove your sales, manufacturing, customer service, and supply chain management skills. Achieving a Dynamics 365 Supply Chain Management, Manufacturing Functional Consultant Associate certification confirms the skills and knowledge to incorporate digital and physical systems; enhance visibility, manufacturing efficiency, and flexibility; and lower costs for their clients.
Microsoft MB-320 Exam Details
Before starting your preparation journey, it is crucial to have an understanding of the exam details. Here are some basic details about the Microsoft Dynamics 365 Supply Chain Management, Manufacturing MB-320 exam. This exam has 40 to 60 multiple choice questions to be answered in a time limit of 120 minutes. The MB-320 exam is taken in English, Japanese, Chinese and Korean languages. To pass this exam, you need a score of 700 / 1000.
Prerequisites
To be eligible for MB-320 Exam, you must have a basic knowledge of accounting principles and financial operations of businesses, client service, manufacturing, field service, retail, and supply chain management concepts. Further, the understanding of basic accounting principles and practices is a requirement.
You need access to authentic resources to pass the exam. You follow some steps to pass this exam successfully.
Steps to Follow in your Microsoft MB-320 Exam Preparation
To streamline your efforts to pass this exam, here are explained few essential steps that you can follow in your Microsoft MB-320 Microsoft Dynamics 365 Supply Chain Management, Manufacturing exam preparation. None of these steps will be challenging to follow for you; let's have a look at them.
Step 1: Visit Microsoft Official MB-320 Exam Webpage
Before beginning the preparation, you should visit the MB-320 official webpage. This is the most trusted page presented by Microsoft to give updated and accurate authentic information about the exam. On the official exam webpage, you can see the necessary information, comprising eligibility criteria, objectives of the exam, prerequisites for the exam, exam cost, exam registration options, and so on.
Step 2: Understand the MB-320 Exam Topics
Each new exam comes with definite objectives. So, it is vital to understand the MB-320 exam objectives thoroughly. Microsoft gives all information about the topics covered in the exam on its official webpage. If you know the exam topics well, it will make your preparation easy. This will help you stay more focused throughout the exam preparation process.
Step 3: Register for Online Training
One of the straightforward and helpful training methods is Online training, which will help you prepare for the Microsoft MB-320 exam. In online training courses offered by Microsoft, you will study the exam syllabus topics in depth from industry specialists. You can also go for the paid instructor-led training courses from any other reliable training provider.
Step 4: Actively Participate in Online Discussion Forums and Study Groups
You should participate in study groups and discussion forums for your exam preparation at the first step of your practice. Participating in online study groups and discussion forums lets you interact with experienced professionals or applicants preparing for the exam. You can get answers to your questions and get queries resolved on forums. So, it is essential to join relevant forums and study groups to make your MB-320 exam preparation smooth.
Step 5: Utilize MB-320 Practice Tests
By taking MB-320 practice tests, you can raise your confidence and identify your preparation level. When you feel that you have mastered all the exam topics and learned from all the preparation resources, you should start taking MB-320 practice tests. Practice tests are created to give you an actual exam environment. It will also help you perceive the pattern of the exam.
Edusum.com is a great platform to perform MB-320 practice test to boost your exam preparation. On this site, you can take practice tests in a situation identical to the actual exam. This will help you manage your time appropriately so you can be entirely ready for the actual one.
You can also try sample questions and then buy a practice test to prepare for the exam and assess your preparation level.
Step 6: Ace the Exam with Calm Mind
Once you have studied for the Microsoft MB-320 certification exam, the next step is to ace the exam with a calm and composed mind. Don't get stressed. You have to be in the right mindset to answer all the exam questions rightly. Take adequate rest the night before your exam and then take the exam with a fresh mind. Read the questions carefully and understand them before answering them.
Conclusion
Having the appropriate skills is one thing, but holding proof for it in the form of Microsoft certifications can transform your career to a great extent. Start now and insert your cerebrum with those efficient and helpful practice tests from Edusum.com to conquer Microsoft MB-320 with ease.