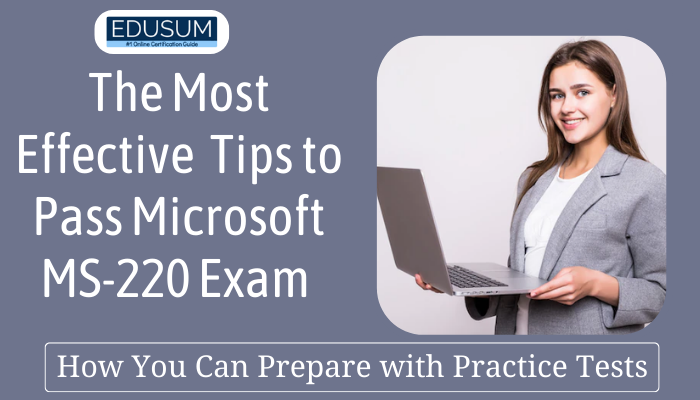 The MS-220 Troubleshooting Microsoft Exchange Online exam is created to prove you can troubleshoot and resolve issues with exchange online. Emails are one of the most broadly used ways of communication presently and are utilized by organizations of all types. Organizations in different sectors, comprising IT and software, utilize on-premises servers to administer their emails. These servers stay within the organization and need constant maintenance and massive investment. Furthermore, if something goes wrong with them, the organization can confront heavy time off and associated disruptions. These challenges needed a solution. Microsoft Exchange Online was initiated to concentrate on solving these problems. This service follows the concept of centralizing all the information, such as mail, contacts, etc., with the help of the cloud.
Basic Information About MS-220 Exam
The following essential demand for Microsoft MS-220 certification exam preparation is the fundamental information about the exam. The MS-220 certification exam comprises around 40 to 60 questions, and the format indicates that it would comprise multiple-choice and multiple-answer questions. The exam cost is $165, and the exam is available in English and Chinese (Simplified).
The exam blueprint is one of the essential features that can help you with Troubleshooting Microsoft Exchange Online MS-220 exam preparation. The MS-220 exam evaluates the abilities of the applicant in the following areas. A closer look at the weighting of each domain can be useful for your exam preparation.
Troubleshoot mail flow issues (20-25%)

Troubleshoot compliance and retention issues (25-30%)

Troubleshoot mail client issues (20-25%)

Troubleshoot Exchange Online configuration issues (15-20%)

Troubleshoot hybrid and migration issues (10-15%)
Step-By-Step Guide for Microsoft MS-220 Exam Preparation
The IT field is constantly growing, which has triggered non-stop competition in various fields. You must beat other professionals about your knowledge, skills, and certifications to be successful in this industry. This reminds you that you must stay upgraded with the latest skills. You must dream big and watch out for new possibilities. In this situation, you should earn a worthy certification. If other professionals have made it, you can achieve it by spending time and money to earn the certification and accomplish your dreams.
Here are a few study tips to help you pass the Microsoft MS-220 exam:
1. Explore Microsoft Official Website
Microsoft offers essential information regarding the exam on its official website. On the official webpage, you can find all the essential information about the Troubleshooting Microsoft Exchange Online MS-220 exam. Moreover, you can also get the links to exam registration and assess the exam objectives. All this information will be helpful throughout the exam preparation.
2. Enroll in an Official Training Course
When you visit Microsoft's official webpage for the MS-220 exam, you'll find details of the training course. Microsoft offers three days of Instructor-led training known as "Course MS-220T00: Troubleshoot Microsoft Exchange Online".
This course guides you on how to solve a broad spectrum of problems that can occur in organizations using Microsoft Exchange Online. In this course, you'll troubleshoot many facets of Microsoft Exchange Online, such as mail flow, recipient problems, compliance, and cloud/on-premises hybrid configurations.
3. Use MS-220 Practice Test
Practice tests are one of the best ways to get insight into the exam. Practice tests help applicants gauge their level of preparation in different areas of the exam entirely, helping them familiarize themselves with the exam pattern. So, Microsoft MS-220 practice tests can be exceptional tools in your journey of preparing for the exam.
Importance of MS-220 Practice Test
Applicants should understand why taking up practice tests before the exam is beneficial. MS-220 practice tests help you to understand the exam structure, helping you acquire the best strategy to deal with MS-220 exam questions.
Top reasons to perform the MS-220 practice test:
They make you familiar with the exam structure.

Practice tests help improve your speed and accuracy.

It enhances your time management skills.

They help you to identify your knowledge gaps.

The Microsoft MS-220 practice test helps you stay quick, calm, and confident about your performance.
Conclusion
Passing the Microsoft MS-220 exam is crucial for your career development to acquire a position as a support engineer. Follow the tips mentioned in this article, as they will boost your preparation journey. Make the most out of the official training course and use the updated practice test from the edusum website, and be ready to pass the exam. All the Best!!