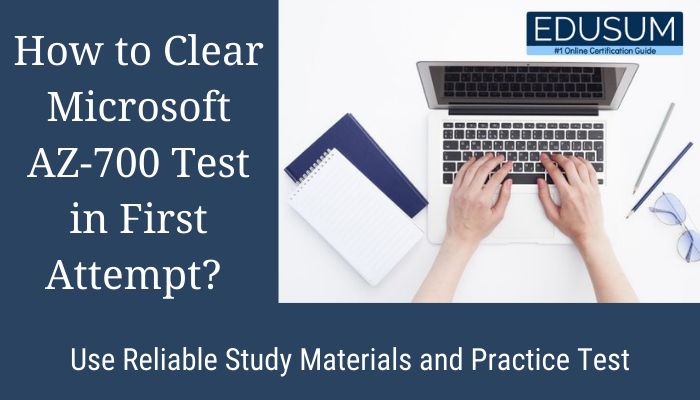 The Designing and Implementing Microsoft Azure Networking Solutions AZ-700 exam measures your skills in five subject areas: designing, implementing, and managing hybrid networking, designing and implementing core networking infrastructure, designing and implementing routing, securing and monitoring networks, and designing and implementing private access to Azure services.
Microsoft Azure Network Engineers are responsible for the planning, implementing, and maintaining of Azure networking solutions. They should have mastery with private access to Azure services, hybrid networking, connectivity, routing, and security. Network Engineers often with a wide range of other Azure professionals to deliver comprehensive Azure solutions.
Microsoft AZ-700 Exam Information
Exam Name: Microsoft Azure AZ-700: Microsoft Azure Network Engineer

Exam Duration: 120 Minutes

Number of Questions: 40-60

Question Type: Multiple Choice

Language: English

Pre-Requisite: Azure Administration Skills, Knowledge of Networking, Hybrid Connections, and Network Security

Exam Fee: $165
Study Tips for Microsoft AZ-700 Exam
The Microsoft AZ-700 exam is deemed to be difficult. However, you can ace this certification exam without much stress with proper preparation. In this article, we'll look at the proven tips that will help you prepare and pass this exam on your first try. Let's dive into exam tips!
1. Visit the Official Website
Everything you require to know about the AZ-700 exam can be found on the official webpage. You'll come across the details of its syllabus topics, question types, pre-requisites, and any other information that will help you comprehend this exam better. With this info from this site, you can decide if the exam is for you and get the best resources you require to succeed.
2. Understand the Microsoft AZ-700 Exam Syllabus Topics
To thoroughly understand Microsoft AZ-700 exam objectives, take time to go through them in detail. Make sure you know these different topics and the sub-topics included in this Microsoft exam. You should also bear in mind the weight linked with each topic
3. Take Up a Training Course
Microsoft offers an instructor-led training course created to equip the applicants with the skills and knowledge needed for the exam. You'll discover its details on the official website, and you can also explore other available online courses. Apart from Microsoft, many trustworthy training platforms offer various tutorials and video courses for Microsoft AZ-700 exam preparation.
4. Take Advantage of Study Guide and Other Resources
You can study guides for AZ-700 exam preparation on the internet. You can buy it from Amazon or Microsoft store.
5. Take AZ-700 Practice Test
Microsoft AZ-700 Practice Test is very critical to your exam success. You should take plenty of practice questions to develop your confidence level in Microsoft AZ-700. This will allow you to identify your weak and strong areas to work upon those topics that require further development.
6. Be a Part of Study Groups and Online Communities
Microsoft is a leading and prestigious vendor of IT certification; there is always something occurring to make professionals work excellently. If you skip an important update, you will be staking your career. That's why you should join some online groups or communities associated with your exam. Multiple online forums can help you get all the vital information.
How Can Microsoft AZ-700 Practice Test Make Great Impact on Your Score?
Preparation for all significant Microsoft exams is always an important stage in your professional life, especially with the exceptional Microsoft exam structures being introduced periodically, but essentially unknown, plus the exam interface that can be mesmerizing if you face it for the first time. To help applicants, AZ-700 practice tests have been created, and they are the key to your success in this Microsoft exam. So, Edusum.com is a reputed online platform that you can explore to obtain a bundle of updated exam answers and questions for your AZ-700 exam preparation.
Benefits of Passing Microsoft AZ-700 Exam
Without doubt, obtaining your skills validated by Microsoft is always exceptional in the profile, but what career opportunities and benefits will you have by taking the relevant exams and devoting your time to comprehensive AZ-700 exam preparation? Below are some of the stimulating benefits you can enjoy after passing this Microsoft exam.
Greater Salary
Microsoft guarantees that you accomplish a set of highly coveted technical skills. Therefore, organizations will be ready to pay more to such professionals with technical abilities who, approximately, can have more than a 20% hike in salary.
Easily Availability of Learning Resources for AZ-700 Exam
Do you think you require an instructor's guidance, or are you comfortable with self-learning at your own pace? Whatever option you choose, Microsoft offers to everybody. For instance, applicants can go for a free self-learning option and then proceed with paid instructor-led training to enhance their knowledge.
Digital Badges
Finally, endeavor to display your skill-set in social media and add your certification on LinkedIn and other platforms. Try this working but straightforward scheme to boost your professional networks and improve the chances of getting employed by interested employers.
Conclusion
Having the appropriate skills is one thing… but having confirmed it by means of Microsoft certifications can transform the whole complexion of your Azure Networking career. It isn't a very difficult task to pass this exam if you have got a solid AZ-700 exam preparation approach. The AZ-700 practice test will be a valuable resource for you in that sense.