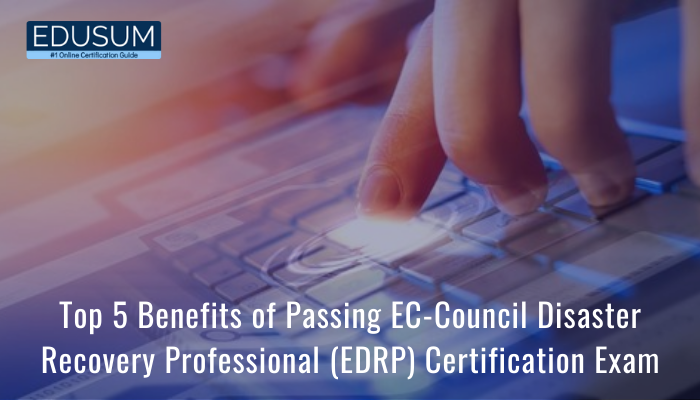 The EC-Council Disaster Recovery Professional - EDRP certification is geared towards educating and authenticating an applicant's skill to strategize, plan, execute, and manage business continuity and disaster recovery plan. EDRP equips the professionals with a profound understanding of business continuity and disaster recovery standards, carrying out business impact analysis, evaluating risks, promoting policies and procedures, and executing a plan. It also trains professionals on how to secure data by placing approaches and methods in place and recovering and reviving their organization's critical data in consequence of a disaster.
Target Audience
IT Professionals working in the BC/DR or System Administration domain

Business Continuity and Disaster Recovery Specialists

Professionals wanting to authenticate themselves in the field of IT Business Continuity and Disaster Recovery

IT Risk Managers and Consultants

CISOs and IT Directors
EDRP Exam Details:
Exam Test Format: Multiple Choice Questions (MCQs)

Exam Duration: 4 Hours

Exam Questions: 150

Passing score: 70%

Exam Delivery: ECC Exam Portal
How to Pass EC-Council EDRP Exam And Become EC-Council Disaster Recovery Professional?
The applicants have to pass the EDRP 312-76 exam to become EC-Council Disaster Recovery Professional. There is no specific experience prerequisite to take the EDRP exam. While preparing for the EDRP 312-76 exam, it is suggested to follow this checklist to help the applicants successfully achieve the certification.
1. Submit the Exam Application in Advance
For the applicants who do not want to enroll in the official disaster recovery training course, it is compulsory to have at least two to 2 years of working experience in the information security field. The evidence of this experience has to be provided along with the exam application. The review procedure might take anywhere between 5-10 days after getting a response from confirmers. So, it is prudent to submit the exam application and evidence of experience sufficiently in advance.
2. Know The EDRP Syllabus Thoroughly
It is vital to go through every detail of the subtopics included in each EDRP domain and the weight of each domain. This will help determine how much you already understand and how much you require to cover for the exam.
3. Fill The Knowledge Gap
Create a study plan, cover up the syllabus, and fill the gap between what you know and what you need to learn. Enrolling in an EDRP exam training course administered by an expert is a great idea to have a thorough understanding of exam syllabus topics.
4. Make the Most Out from Available Resources
The more resources you obtain for the EDRP exam preparation, the more knowledge you get. This will also help you cover every topic of the exam in detail. The more is the availability of the resources for the exam, the more one can practice attempting the exam. This will help you to understand the format of the exam and also in facing the exam confidently. Though, applicants should evaluate whether the resources they find are trustworthy, updated and if it equals the information they are looking for. Once they have obtained their resources, they have to utilize them to their full potential for exam preparation.
5. Study Smart, Not Hard
The key to success in the EDRP certification exam is to study smartly and not hard. Commitment and concentration play an important role in EC-Council exam preparation. Nobody can study with a total concentration in one go. It is always advised to take a short and healthy break in between the preparation to remember the learned topics. Thus, always keep your mind calm and relaxed before you jump on to studying many topics in a day.
6. Take EDRP Practice Test
Gauge your preparation level by performing EDRP practice tests. This will help you set realistic goals for what you can score on the actual exam and provide you with a good sense of your weak and strong areas. Practice tests will give you an idea about the exam structure and also help you in managing time.
Top 5 Benefits of EC-Council EDRP Certification
Spending your time, money, effort, and energy passing the EDRP certification exam and becoming EC-Council Disaster Recovery Professional can only help you a lot. It will never benefit you in many ways. There are many benefits of earning EDRP certification, and below are a few of them.
1. Acquire New Skills
This is one of the most apparent benefits of EC-Council certification. Mastering new skills is an essential part of your career journey, and it indicates you are constantly enhancing your knowledge. Obtaining new skills can strengthen your self-esteem. It is vital to becoming EDRP certified because it indicates continuous learning. Acquiring new skills signifies you can broaden your job abilities and responsibilities.
2. Strengthens Your Resume
It's tough to describe just how a certification can strengthen your resume. Acquiring EDRP certification can be a shining star on your resume. Holding this certification proves that you own the specific skills that are valuable in the workplace. Having an opportunity to Strengthen your resume in such a big way is just another one of the many advantages of EC-Council Disaster Recovery Professional certification. Adding this certification to your resume will make you look very well-rounded and competent as an employee.
Organizations are quick to recruit a candidate who demonstrates that they are qualified. But they are even faster to recruit someone who proves not only that they are qualified but that they are dedicated to continually enhancing their skills and acquiring more.
3. Increase Productivity at Work
Increased productivity is just another one of the several benefits of earning EDRP certification. Being able to work more efficiently and productively will better your work and life ultimately.
4. An Advantage Over the Competition
Another one of the great benefits of passing the EC-Council Disaster Recovery Professional exam is the advantage it provides you over your competition. At the end of the day, who do hiring managers want to recruit?
Everyone wants to hire the most qualified and trustworthy candidates. When you have EDRP certifications to prove your knowledge, you are already way ahead of people who do not hold the certification. Moreover, doing so early on can give you a head start over your colleagues.
5. EDRP Certification Brings Brilliant Career Prospects
After successfully earning the EDRP certification, you can expect brilliant career opportunities extending from intermediate to senior-level positions like Business Continuity Analyst, Business Continuity Planner, Disaster Recovery Administrator, IT Disaster Recovery, Business Continuity Specialist, and Business Continuity manager positions.
Conclusion
Once you own the EDRP certification, then there is no lack of great opportunities and job positions at your disposal. So, study smart and pass the exam with flying score!!