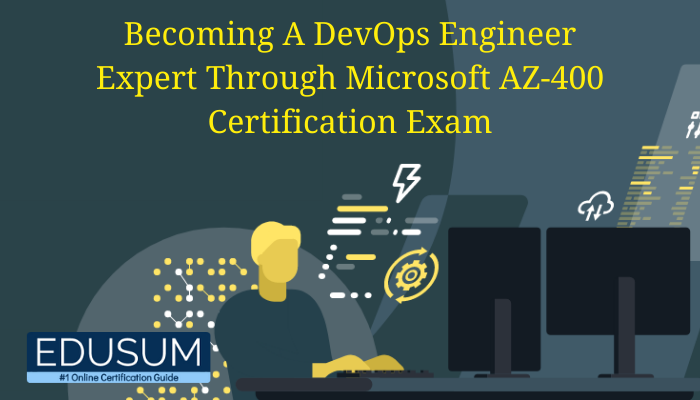 Whenever the thought of the upcoming exam date comes to the minds of most applicants, they become distressful. This is because they can't probably think too much about how the exam will turn out. But if they were to study ardently using appropriate methods, they wouldn't require to be worried at all. The core objective of this article is to make your certification journey smooth. In this article, we have included tips to make your preparation for the AZ-400 exam straightforward.
Important Details of Microsoft AZ-400 Exam
AZ-400 exam is for you if you have received the Azure Developer Associate or the Azure Administrator Associate certification and now want to improve and obtain the Microsoft Certified: DevOps Engineer Expert certification.
AZ-400 Exam Objectives
Develop an instrumentation strategy (5-10%)

Develop a Site Reliability Engineering (SRE) strategy (5-10%)

Develop a security and compliance plan (10-15%)

Manage source control (10-15%)

Facilitate communication and collaboration (10-15%)

Define and implement continuous integration (20-25%)

Define and implement continuous delivery and release management strategy (10-15%)
Including all AZ-400 exam topics might be tiresome, so keep on reading to know how to make your AZ-400 certification path more practical and productive.
Target Audience
The applicants opting for the Microsoft AZ-400 exam are the DevOps professionals who involve people, technologies, and methods to constantly provide valuable services and products that satisfy the business goals and end-user requirements. Those applicants who are taking this exam must be competent with Agile practices. They have to be familiar with Azure administration and Azure development and the specialists in any of this domain. They must also have the skills to implement and design DevOps practices for version control, configuration management, infrastructures as code, build release, compliance, and testing by using the Azure technologies.
Tips to Prepare and Pass Microsoft AZ-400 Exam
The score you receive in this exam will decide if you'll be issued with the Microsoft Certified - DevOps Engineer Expert certification. So, you require to study hard, and here are tips for implementing to get a good score:
1. Create a Solid Study Plan
Each topic of AZ-400 requires sufficient time for thorough learning. Hence, a solid schedule should include a list of the topics and subtopics and set time slots for learning them. Moreover, do not forget to take breaks, to have your meals on time, exercise, and to rest in your study plan.
2. Avail Appropriate Study Resources
It is understood that the study resources you select for AZ-400 exam preparation have a great impact on your result. Thus, be careful at this point and make sure you choose updated and reliable study material. Also, having a ready-made set, you won't waste time looking for information on every new topic from the beginning. For the most reliable options, avail resources from Microsoft's official website. Microsoft offers free online courses or paid instructor-led training to give you the right direction for your AZ-400 certification path. Apart from that, the internet is filled with other indispensable exam resources designed for any learning style and plan.
Few tips to help you with your choice of study resources include:

Begin with Microsoft documentation

Take into account the official instructor-led training course

Avail the AZ-400 study guide

Take advantage of online videos

Perform AZ-400 practice tests
3. Take Up AZ-400 Practice Tests
practicing with AZ-400 exam questions is another amazing tip you must follow for excellent scores in the AZ-400 exam. These study resources can help you perceive what topics you've soaked up and which areas require your further attention. AZ-400 practice tests are also beneficial as they show you how to deal with AZ-400 exam questions in the given time better. Furthermore, these files can often be run in a particular software that mirrors a real exam environment.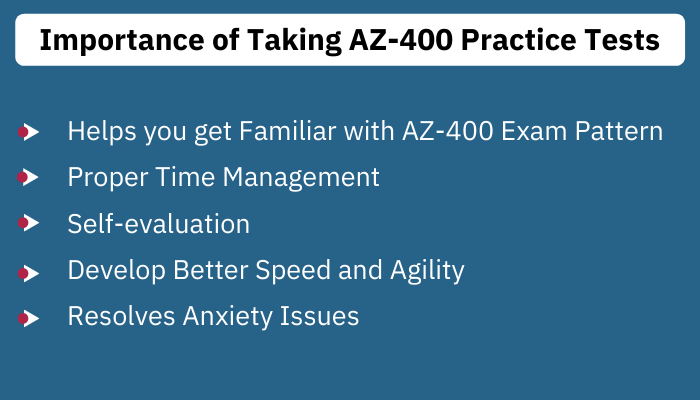 4. Overcome Your Stress
Dealing with stress throughout exam preparation is of utmost importance. There are a lot of ways to cope with stress.
When you feel stressed, you can do relaxation exercises such as listening to your favorite music, deep breath, and meditation. Furthermore, pay attention to motivators and learning discipline, as these will also help you get back on the right track.
5. Seek for Help
If during the preparation journey you feel stuck, don't wait to ask for help from those who have a better grasp on AZ-400 exam topics. It can be an instructor if you attend a course, a companion from a study group or a community forum, or you can watch some relevant videos made by experts in the field.
Conclusion
Using helpful study materials like AZ-400 practice tests and utilizing proven preparation tips will help you comprehend all the topics thoroughly and know more about the exam. Your desire for the Microsoft Certified: DevOps Engineer Expert certification should be strong enough to make you get through the exam with an amazing score.
Now when you have all the necessary information, we believe you're going to find it easier to prepare for your exam.
Good Luck!!