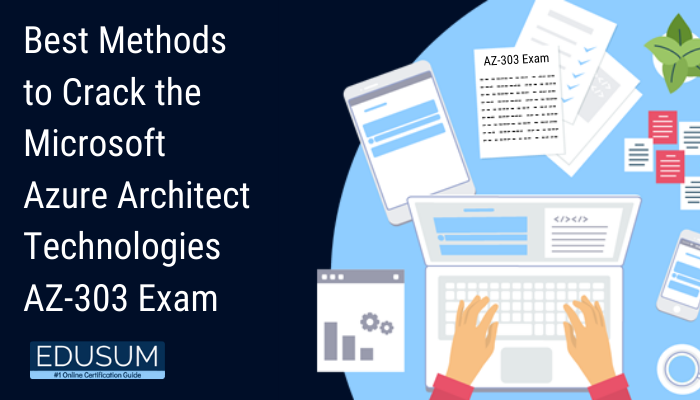 If you are aspiring to become an Azure Architect, AZ-303 Microsoft Azure Architect Technologies is the first exam you should opt for.
AZ-303 and its associated Microsoft Certified - Azure Solutions Architect Expert certificate confirms one's knowledge and skills in Cloud infrastructure and services, including identity, storage, networking, governance, security, DevOps, and data management. To get this certification, the candidates should have the ability to administer Azure environments and implement advisory services to their business environments. Earning Microsoft Certified - Azure Solutions Architect Expert certification confirms that you can interpret the clients' business needs into solutions.
Who is the Target Audience for AZ-303 Certification Exam?
The AZ-303 exam is designed for the Azure solution architects who contribute with the clients, Cloud administrators, and Cloud DBAs to implement business solutions. These individuals hold advanced-level knowledge and skills in IT operations, which include virtualization, identity, data platform, disaster recovery, networking, business continuity, budgeting, and security. They understand how to design and execute a range of solutions that function on Microsoft Azure. These incorporate compute, storage and network.
Microsoft AZ-303 Exam Details:
Certification Name: Microsoft Azure Architect Technologies

Prerequisite: None

Exam Format: Multiple Choice, Multiple Answer, Drag and Drop, Sequence Type Questions, Mark Review, Scenario-based Single Answer Questions

Number of Questions: 40-60

Exam Duration: 150 Minutes

Passing Marks: 700/1000

Registration Fee: USD 165

Exam Languages: English
Topics Included in the Microsoft AZ-303 Exam.
The Microsoft Azure Architect Technologies exam includes four major topics. To obtain a flying score in the exam, you must be ready to spend sufficient time on all the objectives.
The topics covered in the AZ-303 exam are:
Implementing and monitoring Azure infrastructure: 50-55%;

Implementing management and security solutions: 25-30%;

Implementing and managing data platforms: 10-15%;

Implementing solutions for applications: 10-15%.
While preparing for the exam, you should give greater emphasis to the associated percentage. This signifies the weight of questions you can expect from each. For example, the topic with up to 55% coverage of the exam content accounts for more than half of it. This indicates that you must understand the objectives completely if you want to attain success in Microsoft AZ-303.
Complete AZ-303 Study Guide to Prepare for Exam
The significant emphasis in this article to help applicants with AZ-303 exam preparation is the comprehensive study guide. Applicants can follow the tips mentioned here to guarantee successful preparation for the Microsoft Azure Architect Technologies exam.
1. Visit the Official Certification AZ-303 Webpage
The first step for any AZ-303 exam aspiring applicant is to browse the official web page for this exam. The official certification web page is an explicit indicator of all authentic details available about the exam till now. The main difficulty for preparing applicants for the AZ-303 exam is the perplexity concerning official information about the exam.
However, the official certification webpage answers these doubts effectively as you can obtain updated information about the Microsoft Azure Architect Technologies exam there. If you know about the exam well, you have better chances of preparing adequately as per the exam objectives. Most importantly, applicants can also learn about any new changes presented in the exam from the certification web page.
2. Official Learning Paths on Microsoft Learning Platform
The next significant point of concern for aspiring applicants should be to enroll in an ideal AZ-303 training course. Applicants should opt for the Microsoft Learning platform's learning paths as a reliable instrument for their AZ-303 exam preparation.
Applicants can also find that there are no learning paths available for the Microsoft Azure Architect Technologies exam yet. On the other hand, applicants can go for the learning paths recommended by Microsoft Learning for the AZ-303 certification exam.
3. Take Advantage of Official Microsoft Documentation
The importance of official Microsoft documentation for the AZ-303 exam preparation is also unquestionable. Applicants can explore a broad range of Microsoft whitepapers and scholarly journals, and blogs on the Microsoft certification exam. These learning resources offer complete and practical insights into Microsoft Azure technologies and services for the architecture of cloud solutions. Applicants can get solid support in understanding the practical performance-based tasks they have to solve in the exam. Most importantly, applicants could find novel opportunities for diving deeper into each subtopic's implications.
4. Use AZ-303 Practice Tests to Your Advantage
The significance of practice tests in the AZ-303 exam preparation is also one that applicants can not ignore. Precise observation of all exam topics and preparing for the Microsoft Azure Architect Technologies exam by following the AZ-303 study guide can make an applicant confident of taking the real exam. Though, it is also essential for candidates to note the value of practice tests. Why are practice tests necessary? Practice tests are a trusty tool to gauge your level of preparation for each exam topic.
Most importantly, AZ-303 practice tests help you point out the weak and strong areas of exam topics. Another major reason to go for AZ-303 practice tests in your study plan for the AZ-303 exam preparation is to obtain confidence. As you attempt AZ-303 practice tests regularly, you will become familiar with the exam's structure.
Moreover, applicants can also evolve new approaches to solve AZ-303 exam questions with practice tests. The most exacting advantage of the AZ-303 certification exam relates to the improvement of time management skills. Consecutive practice in a simulated exam environment in AZ-303 practice tests can help applicants develop all questions within the given time period.
5. Engage in Online Communities
Another good tip for applicants to improve their AZ-303 exam preparation is participation in online communities. Like you, many other applicants are also preparing for the AZ-303 certification exam to become an Azure Solutions Architect. You can engage in online study groups and community forums to resolve your doubts about the Microsoft Azure Architect Technologies exam. These platforms are the best sources to discover new insights regarding methods to prepare for the AZ-303 exam. Especially when you don't have any official resources to prepare for the AZ-303 exam, these platforms are of great help.
Conclusion
Microsoft is a leading and prestigious certification vendor with many professionals who have gone through the process. Many of these experts have developed the content based on their specialties area to help other applicants study for the exam. Therefore, you can find a lot of platforms that offer training resources for Microsoft Azure Architect Technologies exam preparation. You will also find a good set of practice tests on Edusum.com to be able to qualify with great deliberation.