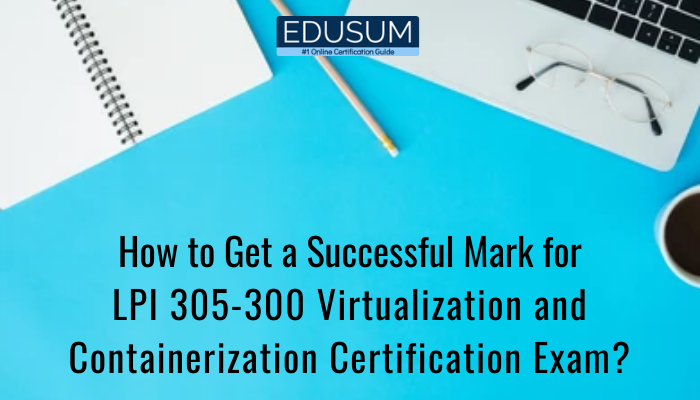 The LPIC-3 certification is the completion of the multi-level professional certification path of the Linux Professional Institute (LPI). LPIC-3 is intended for the enterprise-level Linux professional and presents the highest level of professional, distribution-neutral Linux certification within the field. The LPIC-3 Virtualization and Containerization certification include virtual machines' virtualization, provisioning, and deployment. To become LPIC-3 Enterprise Virtualization and Containerization certified professional, you need to pass LPI 305-300 exam.
Top Benefits of LPI 305-300 Virtualization and Containerization Certification
Many benefits are linked with the LPI 305-300 certification, making it one of the adequate certifications in the IT industry.
1. Draws Amazing Career Opportunities
If you are certified with LPI 305-300, it is almost like a ticket to lucrative jobs. If you're looking for a career transition, this cert becomes a great standard for employers to identify you as someone who could fulfill their requirements. The certification is an excellent means to help understand individuals having the right skills or expertise for any position in the IT industry.
2. Helps In Updating Your Skills
The IT industry has undergone a lot of changes continuously. Many updates are needed to stay abreast of the latest technology and innovations, and it becomes difficult to keep track of as per requirements. However, with the LPI 305-300 certification, you will find yourself updated with the most advanced technologies from LPI related to Virtualization and Containerization.
3. Aids In-Network Building
With the LPI certification, you come one step closer to meeting relevant professionals and potential hiring managers in your industry. Once you receive the LPIC-3 305 Virtualization and Containerization certification, you get many invitations for sessions and events that help boost your skills and network.
This cert is always proof of having the right skills to carry out given tasks. With such a certification, you get labeled as an expert in virtualization, identity management, networking, systems management, storage, and cloud Technologies.
LPI 305-300 Virtualization and Containerization Exam Facts
This LPI certification exam consists of 60 multiple-choice and fill-in-the-blank questions, which need to be completed in 90 minutes. LPI 305-300 exam cost is $200. The exam is taken in the English language. This exam confirms your knowledge and skills related to the following major domains:
Full Virtualization

Container Virtualization

VM Deployment and Provisioning
Tips for Passing LPI 305-300 Virtualization and Containerization Certification Exam
1. Know the LPIC-3 Exam 305 Syllabus Topics
LPIC-3 Exam 305 syllabus topics state apparently what the exam involves. This gives you a brief outline of what to study. You save time by only focusing on what matters.
2. Find Reliable Study Resources
Many websites have come up with an idea to help LPI certification exam applicants pass their exams easily. But with this comes confusion. Understanding which web sources to count on has never been easy, and more, leave alone understanding what resources to use for your LPI 305-300 certification exam prep.
3. Take LPI 305-300 Practice Test
LPI 305-300 practice test is an excellent way to gauge your preparedness. There are many platforms that provide LPI 305-300 practice tests that can give you a real boost, and one such platform is Edusum.com. You can identify your weak and strong areas according to the result of your LPIC-3 305 practice tests.
4. Become a Member of Online Community
The significance of joining an online group cannot be overlooked for LPI certification exam preparation. Through discussion groups, you learn exam concepts in detail, and you may also learn definite strategies to deal with exam questions from your group members.
5. Make Notes
While studying, make sure you take notes of important points. Making notes will help you remember the concepts for a long time. Nowadays, there are many online tools available that you can utilize to write down essential points. Making notes will make your revision easier. You do not need to read over the whole concept all over again.
Importance of LPI 305-300 Practice Test
LPI 305-300 practice test is the only resource you can find online that will help you become familiar with the actual exam structure. Attempting practice tests improve your confidence and reduce pre-exam jitters.
By intensely attempting the LPI 305-300 practice tests, you learn how to tackle exam questions. However, don't expect the same questions in the real exam. The other excellent benefit about them is that you enhance your time management skills.
Conclusion
LPIC-3 305 certification exam is of importance for one to progress in Virtualization and Containerization field; thus, the candidates should not take it casually but be thoroughly prepared for it using appropriate study resources and practice tests. All these add up to what makes a skilled and well-adjusted professional in the Virtualization and Containerization realm.