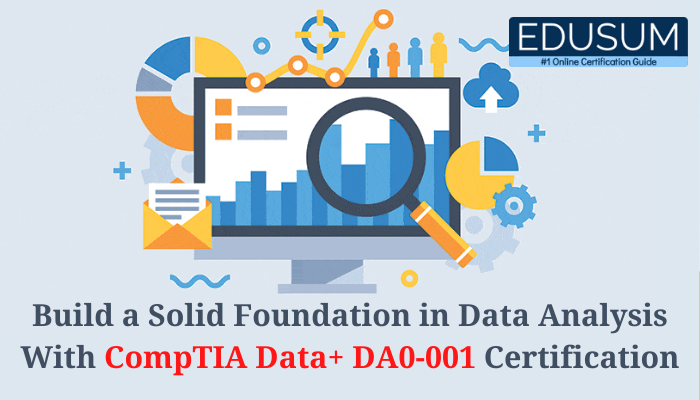 Data analytics is a developing and intricate career field that gauges the success of organizations throughout different industries and demands a high level of knowledge, skill, and expertise. CompTIA Data+ DA0-001 certification is meant for beginners in data analytics. This certification trains you about the data analysis methodology, data quality standards (and how to adhere to them), visualization, data mining, data concepts, dataset reporting, and environments, and what data skills to have and how to enhance them.
Overview of CompTIA Data+ DA0-001 Certification
CompTIA Data+ DA0-001 is an entry-level data analytics certification designed for professionals accountable for developing and facilitating data-driven business decision-making.
CompTIA Data+ confirms certified professionals have the skills needed to promote data-driven business decisions, including:
Mining data

Manipulating data

Applying basic statistical methods

Analyzing complex datasets while adhering to governance and quality standards throughout the entire data life cycle
CompTIA Data+ DA0-001 Exam Structure
Number of Questions: 90 questions

Type of Questions: Multiple choice and performance-based

Time Limit: 90 Minutes

Passing Score: 675 (on a scale of 100–900)

Exam Cost: $239
CompTIA Data+ DA0-001 Exam Objectives:
You can anticipate performance-based, and multiple-choice questions from below mentioned five domains:
Data Concepts and Environments (15%)

Data Mining (25%)

Data Analysis (23%)

Visualization (23%)

Data Governance, Quality, and Controls (14%)
Why Should You Obtain CompTIA Data+ Certification?
CompTIA Data Plus is the only data analyst certification that includes fundamental data analytics skills, evaluates hands-on capabilities, and is vendor-neutral and tool agnostic.
CompTIA Data+ DA0-001, being a vendor-neutral certification, offers analyst skills to carry out different job roles irrespective of the definite programs and tools being utilized. While vendor-specific certifications (SAS, Tableau, or Microsoft) equip you with just one platform. Few certifications delve deeper, such as business analytics and big data, that can be obtained after earning CompTIA Data+ certification.
How to Prepare for CompTIA Data+ DA0-001 Exam?
Earning a CompTIA certification is not a cakewalk, and yet, it can be achieved by hard work and appropriate strategies. Here's what you can do:
1. Obtain Appropriate Study Resources
You can prepare for the DA0-001 exam from lots of study resources such as study guides, labs, instructor-led training courses, online communities, and CompTIA Data+ practice tests. The best way to start the preparation is with official study resources.
2. Use CompTIA Data+ Practice Test
Many websites offer online practice tests for CompTIA exams, but to get the trusted one is like finding a drop in the ocean. Hence, stay clear and attentive. Check Edusum.com before wasting your time looking for other websites to take up the CompTIA Data+ practice test.
3. Take Up Instructor-Led Training Course
The top way to direct towards a safe and proven method to prepare for CompTIA certification exams is to enroll in an instructor-led training course. This is the best way to get a solid grasp of the exam concepts. As the instructors are deeply informed of the exam structure and question types of the exam and master of teaching exam concepts, they will provide you with clear and useful guidance.
Benefits of Taking CompTIA Data+ Practice Test
Practice test helps you score well in the DA0-001 exam in many ways.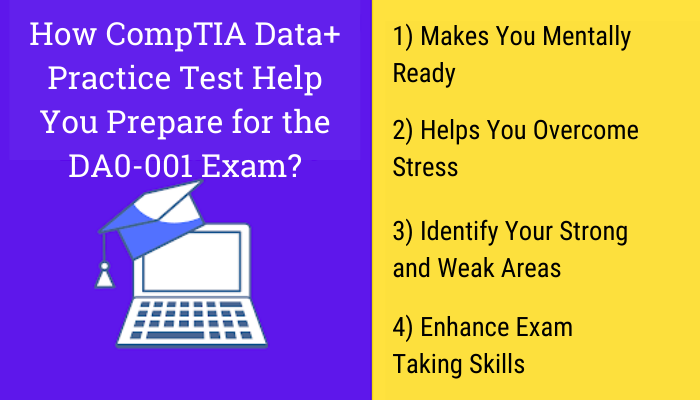 1. Makes You Mentally Ready
Your score in the actual DA0-001 exam greatly depends on time management. You have to answer 90 CompTIA DA0-001 questions in 90 minutes. If you fail to do so, you will score poorly. Thus, you must answer all the exam questions. You need to work on your time management skills to answer all the DA0-001 exam questions in a given time. The best way to enhance time management skills is to attempt the Data+ practice test. Practice tests will make you familiar with the exam structure, types of questions asked, and the syllabus. Having a precise understanding of the exam helps you manage your time wisely in the exam.
2. CompTIA Data+ Practice Test Helps You Overcome Stress
CompTIA DA0-001 is a hard nut to crack. The comprehensive syllabus, kind of questions asked, the time duration— All these factors can make most of you stressed. Stress is a strong stumbling block to crush when giving CompTIA exams. A stressful applicant is more inclined to make errors. You can overcome this by taking as many CompTIA DA0-001 practice tests as possible. Proper preparation using the CompTIA Data+ practice test helps you ace the exam with confidence, as you are acquainted with the exam questions asked by the time you confront the real exam.
3. Identify Your Strong and Weak Areas
CompTIA DA0-001 exam preparation greatly depends on your understanding of exam concepts. CompTIA Data+ practice test can help identify your strong and weak areas. By reviewing the score of practice tests, you can direct your further preparations and work on weak areas.
4. Enhance Exam Taking Skills
A proper exam strategy is essential to get good scores in the CompTIA DA0-001 exam. Your exam strategy has to be formed based on your expertise and understanding of the CompTIA Data+ objectives. You can plan and carry through the right strategies in the CompTIA Data+ practice test, and you can determine how each technique works and apply the best one during the real exam. Practice tests can allow you to try various plans and thus strategize well for the exam day.
Conclusion
To pass the DA0-001 exam, you need to be well prepared. For that, make most out of all the resources available on the CompTIA website first, and then get the most useful practice test from Edusum website. Good Luck!!