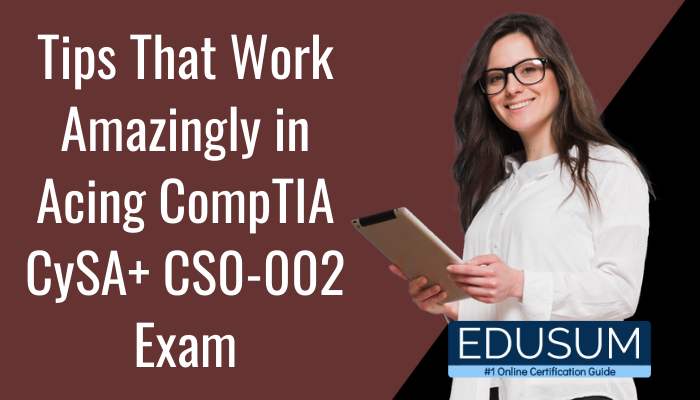 The CompTIA Cybersecurity Analyst (CySA+) certification is a vendor-neutral certification. The CompTIA CySA+ exam is a globally directed proof of intermediate-level security skills and knowledge. While there are no official requirements, the CompTIA CySA+ CS0-002 certification is aimed to follow CompTIA Security+ or equivalent experience and includes a technical, "hands-on" concentrate on IT security analytics.
Information on CompTIA CYSA+ CS0-002 Certification
The CompTIA CySA+ CS0-002 examination is meant for IT security analysts, vulnerability analysts, or threat intelligence analysts. The CS0-002 exam will confirm that the successful applicant holds the knowledge and skills needed to configure and use threat detection tools, perform data analysis, and decode the results to detect vulnerabilities, threats, and risks to an organization to secure and protect applications systems within an organization.
The CompTIA Cybersecurity Analyst (CySA+ CS0-002) examination is the only intermediate high-stakes cybersecurity analyst certification with performance-based questions including security analytics, intrusion detection, and response.
CompTIA CySA+ is the most updated security analyst certification covering advanced, consistent threats in a cybersecurity environment. This is equal to 4 years of practical experience in a technical cybersecurity job position. The behavioral analytics skills covered by the CompTIA CySA+ certification identify and combat malware and advanced persistent threats (APTs), resulting in better threat visibility across a broad attack surface by focusing on network behavior, including an organization's internal network. The CS0-002 exam will certify that the successful applicants have the knowledge and skills needed to:
Leverage intelligence and threat detection techniques

Analyze and interpret data

Identify and address vulnerabilities

Suggest preventative measures

Effectively respond to and recover from incidents
CompTIA Cybersecurity Analyst CySA+ Exam Details
Exam Code: CS0-002

Number of Questions: Maximum of 85 questions

Type of Questions: Performance-based and multiple choice

Length of Test: 165 minutes

Passing Score: 750 (on a scale of 100-900)

Languages: English and Japanese
Tips to Ace CompTIA CySA+ CS0-002 Exam
Apart from exam details, you won't discover much help. If this is your first CompTIA exam, this could be tough. You're likely to be busy with work life, family responsibilities, and other duties apart from that. To help you achieve your coveted results, here is a list of a few tips to help you prepare for the CompTIA CySA+ CS0-002 exam.
1. Create A Study Schedule
Do you have any former knowledge of the exam topics, or are you unknown to it? How much time can you devote to exam preparation every day? You'll need an accurate exam preparation strategy to prepare yourself properly. If you are a working professional and preparing for the CompTIA CySA+ CS0-002 exam, you should start exam preparation at least two to three months.
Make most of the free time available on weekends. Begin studying an hour a day and eventually increase the time duration. This staggered approach can familiarize you with the study routine and slowly build your learning capacity.
2. Obtain the Relevant Study Resources
Obtaining the appropriate study resources for CompTIA CS0-002 exam preparation is crucial in passing the exam. You can find plenty of study resources for this CompTIA exam with a simple google search. CompTIA provides ''CompTIA CySA+ CS0-002 Certification Study Guide'' for in-depth exam preparation. You can also find training courses, Ebooks, YouTube videos, and other study resources for exam preparation.
3. CompTIA CySA+ CS0-002 Practice Test
Take CompTIA CySA+ CS0-002 lots and lots of practice tests, and the benefits are excellent. Review the result of practice tests and determine which topics require further learning. You will also become familiar with the exam structure and question types, which helps to lessen your stress. The more CompTIA CySA+ CS0-002 practice tests you take, the more you can grasp the concepts, as there is no alternative for doing the real thing. Another crucial benefit of practice tests is that they help you sharpen your time management skills.
4. Do Revision Regularly
Many exam takers believe that adequately studying for any exam is sufficient to do the trick. That revision is not a must-do and time-taking, and its significance is not appreciated sufficiently. To understand thoroughly, note that revision is reviewing previous content to strengthen or enhance your knowledge in CompTIA CySA+ CS0-002 exam syllabus topics.
It helps you remember information you weren't strong on or overlooked previously. When you revise a topic while preparing for and before your exams, you will get more thorough on the subject. This boosts your confidence to ace the exam, and you tend to become confident, and your anxiety is kept in check.
5. Organize Your Study Place
Keeping your study place organized is vital, as you will spend most of your time there. To give your best, you need to define your distractions. Keep any source of distractions like tablets, mobile phones, or any other gadgets away from your study place. Your mobile notifications can wait an hour or so. Ensure that your study table and the area around it are clean, and once you are done with your preparation for the CompTIA CySA+ CS0-002 exam for a day, clean up and arrange your study materials in place. A neat and clean study place is not just pleasant to the eyes; it also influences the serenity of our mind.
6. Stay Calm During the Exam
Stress never does any good, even if you don't know the correct answer. The most relevant thing to remember is that you must calm down as you sit for your CompTIA CySA+ CS0-002 exam. Remember that you've given your best while studying and that there's nothing more you could have done. The exam is vital, and you need to concentrate on every question, but stressing about it will not improve your prospects, and it might just make you forget what you've learned.
Key Takeaways
CompTIA CySA+ certification CS0-002 exam is tough but not impossible to pass. A proper understanding and experience will have great significance. Be persistent and confident to pass the CompTIA Cybersecurity Analyst CS0-002 certification exam. Direct your efforts and have faith in yourself. All the Best!!