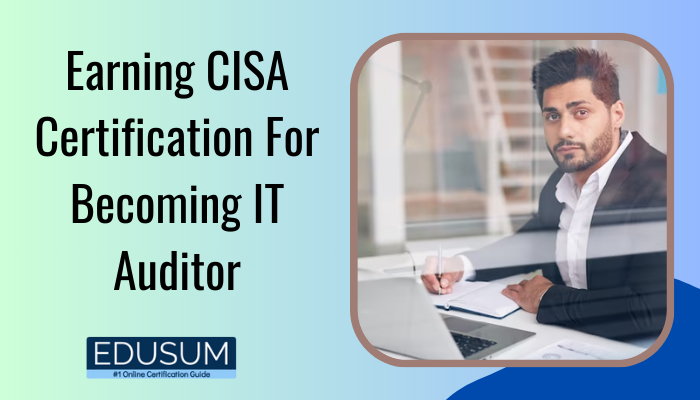 Are you getting ready to advance your career and reach senior management roles? Well, there's a crucial certification you should consider from the perspective of recruiters! Recruiters and HR experts are constantly in search of well-qualified candidates. Before landing a senior position or working your way up the career ladder, there are numerous qualifications candidates must pursue. Acquiring the CISA certification can significantly enhance your prospects of being recruited!
The CISA (Certified Information Systems Auditor) Certification, provided by the Information Systems Audit and Control Association (ISACA), confirms the competence of individuals through a reputable certification that proves their understanding of IT security necessities, principles, and procedures. Furthermore, it illustrates your capability to comprehend the integration of IT security within an organization's broader strategy.
What is CISA Certification?
The CISA certification stands as the worldwide benchmark for individuals pursuing a career in information systems, particularly in auditing, control, and security. Those holding a CISA certification signal to employers that they possess the expertise, technical capabilities, and competence required to address the ever-evolving challenges contemporary businesses encounter.
To obtain a Certified Information Systems Auditor (CISA) certification, individuals must complete a thorough examination and meet specific industry-related work experience criteria. Additionally, candidates are required to engage in ongoing education and career development while adhering to ISACA's Code of Professional Ethics and Information Systems Auditing Standards.
How to Get CISA Certification?
To succeed as a certified CISA professional, the initial step involves passing the certification exam. Candidates are typically required to possess at least five years of professional experience in IS or information systems auditing. However, it's worth noting that in some cases, up to three years of relevant experience may be exempted if specific criteria are met.
You should possess one year of prior experience as an information system auditor. Moreover, you have the option to provide one year of experience in auditing that is unrelated to information security.

At times, having a 2- or 4-year degree can fulfill part of the experience requirement. An associate's degree can replace one year of experience, while a bachelor's degree can be used instead of two years of work experience.

A master's degree in information security and information technology can be credited with one year of professional experience.

A university professor with two years in computer science, information systems, auditing, and accounting can replace one year of professional experience.

After fulfilling the abovementioned conditions, you must adhere to ISACA's code of professional ethics. Subsequently, you become qualified to participate in the CPE (Continuing Professional Education) program, and it is compulsory to sustain your ISACA membership. You are required to accomplish a minimum of 20 CPE hours annually.

The last requirement involves your acceptance of the ISACA and CISA holder standards.
CISA Exam Overview
The CISA exam is divided into five sections or domains, comprising 150 questions, and candidates are allotted 4 hours to complete the exam. The exam fee is $575 for ISACA members and $760 for non-members. Here are a few CISA domains that assess your auditing and cybersecurity abilities to evaluate your CISA knowledge.
Domain 1: Information Systems Auditing Process (21%)

Domain 2: Governance & Management of IT (17%)

Domain 3: Information Systems Acquisition, Development, and Implementation (12%)

Domain 4: Information Systems Operations And Business Resilience (23%)

Domain 5: Protection of Information Assets (27%)
How to Prepare for the CISA Exam?
To achieve success in the CISA exam, candidates must engage in thorough study and extensive practice. The following tips and resources are available to assist you in your successful exam preparation.
Tip 1: Understand the Exam Format
The CISA exam consists of 150 multiple-choice questions, making it a formidable challenge. Understanding the CISA exam format is the first step in your preparation journey. Familiarize yourself with the exam structure, including the number of questions in each domain, to allocate your study time effectively.
Tip 2: Create a Study Schedule
Effective time management is crucial when preparing for the CISA exam. Create a study schedule that aligns with your strengths and weaknesses. Allocate more time to areas where you need improvement while ensuring you cover all domains of the exam.
Tip 3: Study the ISACA Review Manual
The ISACA Review Manual is your bible for CISA exam preparation. It covers all the domains and provides comprehensive explanations and sample questions. Make it your go-to resource for understanding the core concepts and topics you'll encounter in the exam.
Tip 4: CISA Practice Exam
The adage "practice makes perfect" holds for CISA exam preparation. Invest in reputable practice exam materials or question banks. Regularly test your knowledge and time management skills to simulate exam conditions.
Tip 5: Join a Study Group
Studying with peers can provide a fresh perspective and help reinforce your understanding of complex topics. Consider joining a CISA exam study group or online forum to exchange ideas, discuss challenges, and gain insights from fellow aspirants.
Tip 6: Take Official CISA Review Courses
Official CISA review courses, often offered by ISACA, provide structured, expert-led training. These courses offer in-depth coverage of exam domains and are an excellent investment in your preparation.
Tip 7: Understand the CISA Domains
The CISA domains outline the knowledge and skills required for the exam. Pay close attention to these areas as they serve as a roadmap for your preparation. Ensure you can confidently address the tasks associated with each domain.
Tip 8: Familiarize Yourself with Exam Resources
Before the big day, get acquainted with the resources available during the exam. Navigating the exam interface and using available tools can save you valuable time and reduce stress.
Tip 9: Manage Exam Anxiety
It's natural to feel anxious before a high-stakes exam like the CISA. Employ relaxation techniques, maintain a healthy lifestyle, and get adequate sleep in the days leading up to the exam to keep anxiety at bay and ensure optimal cognitive performance.
Tip 10: Review Ethical Guidelines
As a future CISA certificate holder, ethical conduct is paramount. Review the ISACA Code of Professional Ethics to reinforce your commitment to ethical behavior. This knowledge will also help you answer questions related to ethics on the exam.
How Can the CISA Practice Exam Help You Prepare and Pass the Exam?
In recent years, practice exams have gained significant prominence, with many test-takers opting to utilize them. The availability of practice exam providers has also seen a remarkable increase. Amidst this abundance of resources, the true challenge lies in selecting the most trustworthy one.
Edusum is a reputable platform that offers meticulously verified, high-quality study materials assessed by a team of IT professionals. Edusum is a comprehensive resource for all your IT examination requirements, covering certifications from leading vendors, including ISACA. Here's how you can optimize these valuable resources:
1. Practice
Practice is the most effective means to achieve excellence in any endeavor, and this principle certainly applies to test preparation. Engaging with numerous CISA practice questions provided on the Edusum website and revisiting them repeatedly will enhance your grasp of the necessary subjects and enable you to assess your progress. Furthermore, encountering multiple questions related to the same concept helps evaluate your comprehension from different angles, ensuring a robust understanding of the taught principles.
2. Become Familiar with the CISA Exam Format
Understanding the exam format is highly beneficial, particularly in ISACA exams, as they incorporate unique question types. Edusum's CISA practice questions provide a valuable resource for understanding the exam's content and structure. This allows you to prepare effectively by identifying efficient strategies for addressing diverse questions, saving you significant time and effort during the exam.
3. Identify Knowledge Gap
Engaging in CISA practice questions and analyzing your performance results can help you identify your areas of weakness, allowing you to focus on enhancing them. However, it's crucial to be diligent in this endeavor, memorizing the correct answers and revisiting the areas where you made mistakes to ensure a comprehensive understanding.
4. Managing Your Time Effectively
Developing practical time management skills is essential because you must complete all questions within the allotted time frame. Therefore, when you attempt a CISA practice exam and exceed the time limit, it indicates the need for more study and practice. You should seek more efficient methods to approach the questions. As you refine your knowledge, you'll be capable of swiftly answering the more straightforward questions, allowing you to allocate the extra time to tackle the more challenging ones.
Benefits of Earning CISA Certification
Obtaining a CISA certification isn't solely an employer's requirement; it also accelerates your career progression. In today's dynamic economy, the most impactful action a learner can take to distinguish themselves is to achieve certification. The advantages of earning this credential encompass the following:
1. Swift Career Progression
The CISA certification serves as an excellent means to advance one's career. If your goal is to ascend the career ladder rapidly, obtaining the CISA certification can facilitate that journey. As a seasoned professional, you are prepared to embrace fresh challenges and assume additional responsibilities. This can prove highly advantageous for both your professional development and personal life. You will be able to engage in projects that demand enhanced skills and expertise, ultimately enriching your experience and increasing your value to your employer.
2. Lucrative CISA Certification Salary
Numerous companies offer attractive salaries to seasoned professionals who have completed their CISA certification and passed the associated exams. A growing number of organizations are recognizing the value of this certification, as it signifies a genuine understanding of the industry and the company's role within it rather than mere industry jargon. If you aspire to earn a substantial income without resorting to part-time work or exploring alternative career paths, obtaining your CISA certification is currently one of the most strategic steps you can take.
3. Stay Informed About the Changing Business Landscape
More and more, organizations are emphasizing security and allocating resources to initiatives aimed at safeguarding their data from cyber threats and hackers. To remain competitive, individuals must stay abreast of the latest technological advancements in cybersecurity to offer the most effective services for their client's requirements.
Conclusion
The benefits of obtaining a CISA certification are vast and compelling. From enhanced career opportunities and competitive salaries to global recognition and expertise validation, this credential is a game-changer in information systems auditing.
To achieve the coveted CISA certification, diligent preparation is vital. Follow the ten exam preparation tips outlined in this guide to ensure you're well-prepared for the journey ahead. Remember, passing the CISA exam opens doors and signifies your dedication to maintaining the highest ethical standards in the field.
Start your preparation today and embark on a rewarding journey towards becoming a Certified Information Systems Auditor. Your future awaits, and the CISA certification is your passport to success. Prepare diligently, and watch your career soar to new heights!