Network administrators are IT professionals who work to maintain the networks of several organizations. Because they manage the administration of the network and oversee others who are working with the network, they are generally the highest-ranked technical staff of the organization.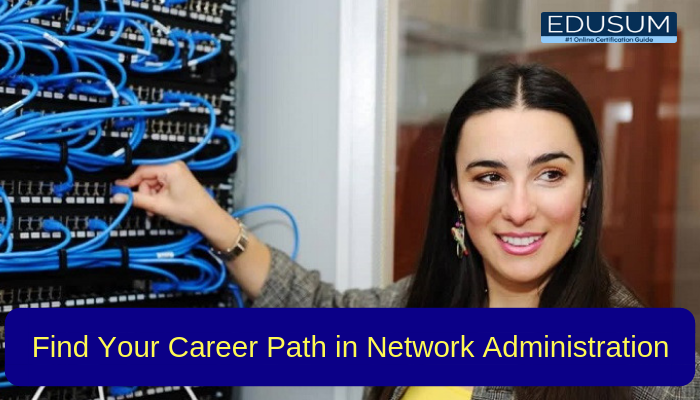 Organizations rely on network administrators to maintain their hardware and software, including servers, computers, switches, routers, VPN gateways, printers, intrusion detection systems, firewalls, and other assets. Network administrators also manage security updates and software deployments as well as email and data storage.
Looking for a career in network administration? If so, you'll need to get certified. You'll require a series of certifications that designed to the skills expected to complete the job. While most network administrators have various certifications, it only takes one certification to start a career. The combination of certifications and work-related experience is the answer to promoting and developing a career in network administration.
Why choose a career in network administration?
Network administration is in huge demand. According to the Bureau of Labor Statistics, the area of network and systems administration is expanding at an annual rate of eight percent. This growth rate is greater than most professional careers and is supposed to extend through 2024. However, the number of qualified administrators entering the profession fails to maintain pace with the need for qualified expertise. While this growing skills notch has been difficult for organizations, it has created phenomenal employment possibilities for those with the appropriate skills.
Planning a New Path
While the field of network administration has presented constant employment for years, it's experiencing a significant shift. Cloud technology is revolutionizing the way network administrators produce IT services and those who fail to adopt this new technology will be gone behind. If you're dedicated to mastering new technologies and improving new skills, here's an excellent certification path for a rewarding career in network administration.
CompTIA A+
CompTIA A+ is the first certification for anyone launching a career in IT. This two-exam certification teaches IT basics and will qualify you for an entry-level role on a technical team. Traditional job titles associated with this certification carry desktop support and helpdesk technician. Eventually, these roles provide the work-related experience required to progress your career.
Most ambitious IT practitioners rely on online resources, Practice tests, and test-prep materials to prepare for the exam.
Mobile Devices 14%

Networking 20%

Hardware 27%

Virtualization and Cloud Computing 12%

Hardware and Network Troubleshooting 27%
Operating Systems 27%

Security 24%

Software Troubleshooting 26%

Operational Procedures 23%
MCSA
The Microsoft Certified Solutions Associate (MCSA) has a type of specializations spanning from Cloud to Web Applications. However, anyone exploring a career in network administration should concentrate on Windows Server. The MCSA: Windows Server 2016 can take anywhere from three months to a year to achieve. While there are no prerequisites for this certification, it's advised you first earn the CompTIA A+ or Microsoft Technical Associate (MTA).
Understanding practices, both physical and virtual, is important for any network administrator. Although the MCSA isn't a necessity for a career in network administration, it will positively improve your technical credibility.
MCSA: Windows Server 2016 exams:
CompTIA Network+
Once you've earned your CompTIA A+ and have started your quest for an entry-level IT job, get certified in CompTIA Network+. The CompTIA Network+ is your first real feeling of networking. While CompTIA A+ includes networking basics, Network+ seizes a deeper dive. This is a perfect certification for anyone pursuing an entry-level job like network support. The CompTIA Network+ is a perfect certification for starting a career in network administration.
Common resources to prepare for the exam include on-demand training, virtual classroom options, and practice tests. Although there is no eligibility required for this certification, CompTIA A+ is suggested. This is a certification that requires to be a part of your IT resume and can be acquired without any work-related experience.
Configuration

Wired and wireless network devices

Unified communications

Mobile

Cloud and virtualization technologies
Dell Networking Associate
Dell EMC presents certifications across eight different certification tracks including Technology Architect (TA), Cloud Architect (CA), Systems Administrator (SA), Enterprise Architect (EA), Implementation Engineer (IE), Platform Engineer (PE), Data Scientist (DS), and Technical Support Engineer (TSE). The certification framework also maps credentials back to specific technology areas storage, cloud, data protection, networking, converged infrastructure, server, and data science as well as certifications for role-based profiles.
Certified Associate – Networking: This certification aims professionals working with Dell EMC networking switches. Applicants should own a minimum one year of networking experience with six months centered on installing and maintaining EMC networking switches and be qualified to install, configure and troubleshoot networking switches.
CCNA
Cisco is the leader in Network technology and presents a host of services for network administrators to specialize in. The Cisco Certified Network Associate (CCNA) is a sought-after certification and only demands the achievement of two qualifying certification exams. Obtaining this certification can take anywhere from two to six months. Though there are no prerequisites for the CCNA, familiarity with networks and CompTIA Network+ is highly advised.
The CCNA gives network administrators with certifications required to establish a career in network administration. The CCNA also approves ambitious network administrators to specify their skills based on the Cisco services they propose to deliver.
CCNA specializations include:
Collaboration

Cloud

Security

Cyber Ops

Data Center

Design (CCDA)

Wireless

Service Provider

Routing and Switching
Career Opportunity for Network Administrators
Essentially every business utilizes Macs, PCs, and mobile gadgets like iPads to handle their tasks meaningfully better than traditional paper methods efficiently. Fast-paced digital advancements make businesses constantly invest in new technology for network administrators to install. Rising demand for cloud computing, particularly in small businesses, indicates that administrators also coordinate mobile networks now. Federal regulations compelling the adoption of computerized health records is also driving more hires in clinical settings than ever before.
Possibilities for getting a job as a network administrator are great since most organizations require one or more to manage their networks. In some larger organizations, a team of network administrators is required to maintain a complicated system of networks.
Networks are crucial to an organization's functioning, handling everything from company records to communicate via email and internal messaging. Among the disruptions, most networks have at least occasionally and the continuously evolving world of computer viruses and hacking attempts, network administrators are important to the stable operation of just about every organization.
A career as a network administrator gives a difficult environment in which to exercise learned skills on a daily basis. Network administrator jobs are different every day and present innovation to practitioners. Although obstacles in organizations' networks may not always be simple to resolve, it will never be tedious to bring them to a resolution.
Interesting Careers for Network Administration
These days, just about every organization practices computer networks in some way. This means there is also the huge demand for well-trained, highly-skilled Network Administrators. Depending on the requirements of their business, Network Administrators can have infinite responsibilities.
They may work with management to define the most appropriate network for the organization's requirements, install the hardware and software, set up and configure servers, provide training for the network users, and carry out system maintenance and repair tasks. With a Networking certification, you can open the door to a broad range of exciting Network Administrator career possibilities.
Network Engineer

Network Security

Technical Support

Network/Systems Analysts

Field Technician

Sales and Marketing

Freelance Network Consultants
Conclusion
Network administration is at the center of most IT organizations and serves an important function for enterprise-level organizations. While this field remains to evolve with new technologies like virtualization, it persists in giving a multitude of job opportunities for network administrators of all levels.