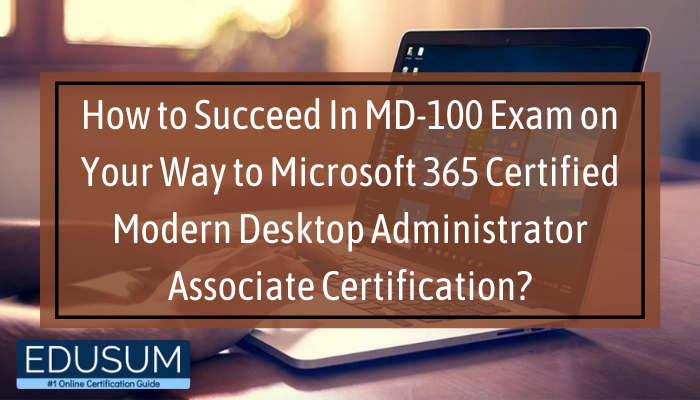 Microsoft Administrators generally cope with a considerable amount of operations and information. They require extensive skills to manage and deploy various devices and apps to ensure that the enterprise's processes work accurately. These professionals often have to be acquainted with technology and work skillfully in non-Windows settings. If you want to work as Microsoft Administrators, it will be best for you to first earn Microsoft 365 Certified: Modern Desktop Administrator Associate certification by passing MD-100 and MD-101 exams. It will demonstrate that you have the skills that satisfy the requirements of any current business.
So, if you want to upgrade your career, you should pay attention to this article. Below, we'll provide you with the Microsoft Certification details, which is the first step you require to attain to catch up with this Microsoft certification. We will also reveal the study resources you can use to achieve the passing score from the first attempt successfully and will tell you how Practice tests can help you get a benefit over your competitors. So, are you ready to begin this journey?
Certification Path Overview
Microsoft 365 certification for Modern Desktop Administrator Associate demands applicants to pass two exams to earn the certification. The first exam is MD-100 which authenticates your expertise in installing, configuring, and maintaining Microsoft Windows clients within a domain infrastructure. Once you have achieved the passing score, you will also require to take MD-101 for Managing Modern Desktops. The exam cost is $165.
Although Microsoft doesn't reveal so much information on the number of questions you require to answer on the exam day, they give details on the topics. This article focuses on Microsoft MD-100 exam; let's find out what skills you need to develop to pass this exam.
Microsoft MD-100: Exam Topics
You have to learn the skills that allow you to become a master in desktop administration. You can gain them by studying and mastering the MD-100 exam topics. Here are these objectives:
Install and configure Windows (20-25%)

Configure and manage connectivity and storage (15-20%)

Maintain Windows (30-35%)

Protect devices and data (25-30%)
How to Prepare for the MD-100 Windows Client Exam?
Following are some of the tips that will help you in studying for the MD-100 exam and then qualified to pass it on the first attempt:
1. Obtain the MD-100 Study Guide
The primary rule is to through obtaining the MD-100 Study Guide for thorough exam preparation. You will need to get familiar with the objectives and course domains of the exam.
Furthermore, you will require absolute determination to be able to commit a significant amount of time to each topic and have a thorough understanding of the subject. This determination can be acquired by customizing your study focus on the exam objectives. The official guide has been presented to work as an outline for the exam. So, it is always a smart option to refer to it.
2. Make a Solid Study Plan
Having an appropriate, achievable study plan is as vital as studying hard. After referring to the guide, you will require to design a plan. This plan should be made by keeping the course topics and time duration left for the actual exam. You should begin preparation with the topics you find easier.
Furthermore, you need to be consistent enough to dedicate your ample time to the exam topics that have more weightage in the exam. As you keep following your plan, you will remain constant, and it will also help avoid distractions. The key to passing the exam is always starting well in advance, so start preparing now and Stay Driven and Meet Your Goals.
3. Books Are Our Best Friends
Books always come in handy, and trust us when we say that books are essential resources for preparation. You can find many books for Microsoft MD-100 exam preparation. So, you should be attentive to avail books for the Microsoft MD-100 exam from authentic sources.
If you ask, then we would suggest learning from study guide. The study guide will help you to concentrate on acute thinking and deciding perception. Both of these skills are essential for a successful outcome at the Microsoft Certified Associate level.
4. Enroll in an Online Training Course
Once you have created a study plan, obtained study resources, then you should enroll in an online training course. Training courses are helpful for preparations as they offer practical experience and practical training.
5. Attempt MD-100 Practice Tests
The last step in exam preparation is to measure your learning with MD-100 practice tests. No should be prepared thoroughly to measure your preparedness level. Self-assessment is important as it is vital to pass the exam. The best option to do this is to take up practice tests. It is quite right that Practice makes a man perfect. The more you will practice, the better for you.
The practice tests are mimic the actual exam environment. Furthermore, they help you to identify areas that require improvement. Taking practice tests will help you get through with flying colors. So, we recommend you take up as many practice tests as possible.
Benefits of Passing the Microsoft MD-100 Exam
If you are still in the dilemma of whether you should go for this exam or not, you should take into account the following benefits that come with passing this exam.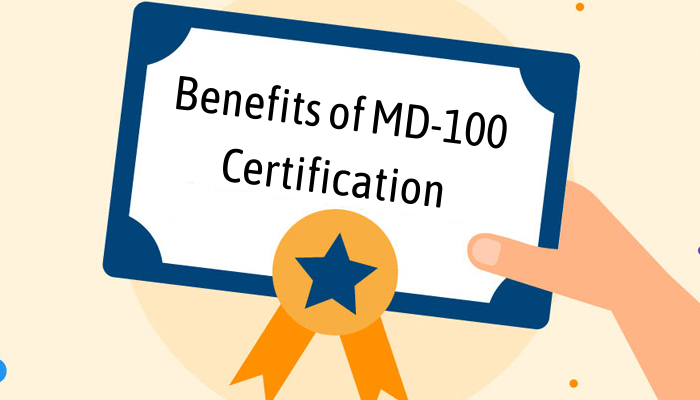 1. Passing the MD-100 Exam Is the Most Effective Way to Be More Productive
The IT certifications are a stepping stone to profitable careers. Having listed Microsoft certification on your resume, you are the first preference for hiring managers in the interview process. This option will distinguish you and help you get a job easily as a Modern Desktop Administrator Associate. This is because the hiring managers know what you are bringing to the table and how valuable you can be to their organization. The certified professionals have a 25% chance of getting a promotion or salary hike faster than their non-certified peers.
2. Deliver Value to Organization
The organizations and their administration acknowledge that the certified professionals provide greater value and make a direct impact on their organizations. Reports reveal that they are around 90% more productive than their non-certified peers. Every company wants to hire high-performing professionals, and with the Microsoft certificate on your CV, you can aim to get your dream job more quickly than you'd expect.
3. MD-100 Windows Client Certification Helps You Get Promoted Easily
If you deliver the best outcomes, you will scale up the career ladder faster than usual. This is what the Microsoft certification can offer you. While studying for your exam, you will expand your skills and knowledge in doing so. You are also prone to commit to continuous learning as you go through your career. This places you for promotion and helps you reach your career objectives faster.
Conclusion
Passing the Microsoft certification exam can be tough, but it doesn't have to be this way. Although the Microsoft exams are well-known for their difficulty level, you can pass your exam on the first try with suitable study materials. You will find a lot of resources on the Microsoft platform, comprising instructor-led training courses and online learning paths. Moreover, you can explore practice tests on Edusum.com to equip you for remarkable performance in Microsoft MD-100 Windows Client exam.