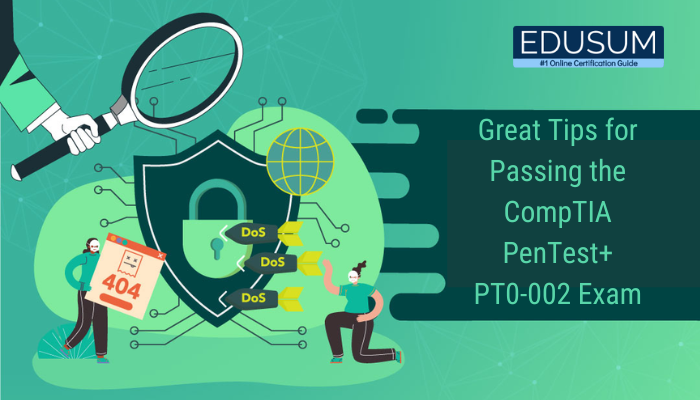 Every week brings reports of fresh privacy or security breaches. As organizations rush to safeguard their interests and the well-being of their clients, the capacity to perform penetration testing is an increasingly crucial skill. This skill set is growing in importance for organizations seeking security and is becoming more profitable for those who have mastered it. The CompTIA PenTest+ PT0-002 certification is designed for cybersecurity experts like penetration testers and vulnerability assessment analysts responsible for scanning, pinpointing, exploiting, documenting, and overseeing network vulnerabilities.
The CompTIA PenTest+ certification strongly emphasizes theoretical understanding and practical expertise, thoroughly evaluating your penetration testing abilities. Below are the essential areas of knowledge and skill sets that the PenTest+ exam encompasses, along with the relative importance assigned to each domain in the exam.
Planning and Scoping (14%)

Information Gathering and Vulnerability Scanning (22%)

Attacks and Exploits (30%)

Reporting and Communication (18%)

Tools and Code Analysis (16%)
The PenTest+ PT0-002 exam is structured with multiple-choice and performance-based questions, offering a comprehensive assessment of cybersecurity skills. Candidates are allotted 165 minutes to complete the exam and must tackle a maximum of 85 questions. To obtain the CompTIA PenTest+ certification, individuals must score at least 750 out of 900 points. The CompTIA PenTest+ cost is 392 USD. The following tips help you prepare well enough to pass the PenTest+ PT0-002 exam on the first try.
Best Tips to Ace CompTIA PenTest+ PT0-002 Exam
1. Create a Study Checklist
The exam comprises 85 questions encompassing various topics, demanding a thorough understanding. Dissecting these subjects into a checklist is recommended to cover the entire syllabus effectively. This method helps prevent becoming overwhelmed by one section of the study and inadvertently neglecting the others. Make sure to include all topics in your checklist.
2. Take Official Courses
It's essential to recognize that preparing for this challenging exam can only be adequately accomplished with unofficial study materials. While supplementary materials may provide some coverage of the topics found in official course books, a comprehensive understanding of all required subjects can only be achieved by using official resources. The primary reference for preparation should be the CompTIA PenTest+ exam blueprint, as it contains all the pertinent details about the PT0-002 exam.
The official study materials will enable you to explore the course subjects comprehensively, delving deeply into each topic outlined in your previous checklist. These resources will equip you with an extensive understanding of pen-testing, ensuring you can approach exam questions with the required expertise. It's advisable to place your trust in official study guides, as they are the most reliable sources of knowledge, offering comprehensive explanations for every term you consult.
3. Enroll in the CompTIA PenTest+ Training Course
It's essential to seek out training programs designed for the CompTIA certification exam. CompTIA provides top-tier, instructor-led training options suitable for both individuals and groups. Enrolling in a PT0-002 exam preparation course can prove highly beneficial, especially for candidates with limited experience in the cybersecurity field. A quality training program will offer extensive coverage of all the subjects outlined in the CompTIA PenTest+ syllabus and practical, hands-on training. Moreover, it provides the chance to engage with industry experts, allowing you to ask questions and gain clarity on any uncertainties.
4. Perform CompTIA PenTest+ Practice Test
The most effective way to evaluate your readiness for the CompTIA PenTest+ exam is by undertaking practice tests. Simply 'knowing' when you're fully prepared for the exam can be elusive. To gauge your readiness accurately, taking multiple practice tests is essential. These tests help identify your strengths in different subject areas and highlight areas that require improvement.
Practice tests also enhance your knowledge by presenting questions with four answer options, requiring you to analyze and identify the correct one critically. You can access online practice tests on the Edusum website, which not only illuminate the study paths for the PT0-002 exam but also provide study recommendations for areas requiring revision.
5. Use Study Guides
Once you know the structure, content, and type of the question that will be asked in the exam, you can cover the topics better. The Pentest exam will have 85 questions that must be attempted within 165 minutes. You can find an official study guide that will help you understand the topics and exam questions better.
6. Join the Relevant Online Community
Numerous online forums and blogs serve as meeting places for individuals sharing a common goal: enhancing their understanding of the subjects in the CompTIA PenTest+ exam. People from various corners of the world exchange insights and recount their experiences related to the PT0-002 exam. These communities offer valuable, real-world knowledge through the tips and advice they provide. Engaging with these resources can significantly enhance your preparedness and increase your chances of achieving an outstanding score on the exam.
7. Avoid Brain Dumps
Using brain dumps is unlawful and morally wrong, and their utilization for exam preparation is strongly discouraged. CompTIA's stance on the use of unauthorized materials is unambiguous. Even if a candidate knows whether certain content is deemed unauthorized training material, memorizing such content to pass an exam violates CompTIA's policy.
8. Take Care of Your Health and Well-being
Prioritizing your health and well-being is imperative while preparing for the CompTIA PenTest+ exam. Maintaining good health and ensuring you are well-rested are fundamental for successful learning and retaining information. Adequate sleep, a balanced diet, regular exercise, and occasional breaks are all essential to prevent exhaustion and maintain peak performance.
9. Create A Study Plan
At this stage, you've identified what needs to be studied and the topics that require your attention. Now it's time to allocate your time and study capacity daily. Crafting a study plan is essential to cover all aspects of the course and subjects thoroughly. It's crucial to maintain a sense of realism when creating your study plan, as it's a roadmap you'll be following, and setting unrealistic goals can lead to a situation where you sacrifice depth of understanding for adherence to the plan. You should gauge your capacity for absorbing information daily.
If you're utilizing additional materials like seminars or briefs, plan your study sessions before, during, and after such events. If you're juggling work and study, consider scheduling your study hours during your most alert and energized periods. These are essential factors to consider before embarking on the process of devising your study plan.
When do you intend to schedule the exam?
The timeframe you choose will determine your daily preparedness. It's important to schedule the exam for a duration during which you are confident that you can adequately cover all the subjects within the exam course.
What is your budget allocation for preparation materials and training courses?
To comprehensively address all the exam topics, seeking out official courses and practice materials is essential. Dependence on certified study resources is highly recommended.
Which training method aligns best with your preferences and needs?
You may fall into the category of individuals who excel in self-directed learning, while others may prefer the guidance of a skilled CompTIA PenTest+ instructor. The choice ultimately rests with you to determine what aligns most effectively with your learning style. Drawing from your previous learning experiences can help you identify the method that is most suitable for you.
What prior experience do you possess with the subjects covered in the exam?
You may have prior experience in pen-testing subjects, given your interest in obtaining the CompTIA PenTest+ certification. However, relying on something other than your existing knowledge is crucial. Studying the subjects you are well-versed in thoroughly and those you still need to explore is advisable. Skipping any subject based on your prior experience alone could place you at a disadvantage.
Conclusion
CompTIA PenTest+ PT0-002 exam will be the most challenging exam you will appear in, requiring you to give your best efforts while preparing to pass it on the first attempt. This certification will let you start apart from the rest of your peers and also entitle you to an excellent salary.