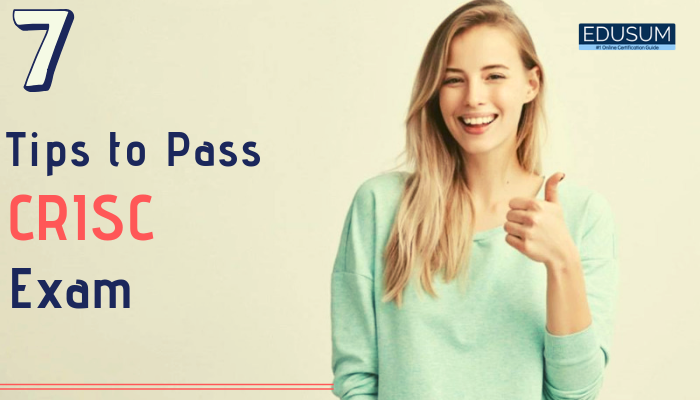 IT enterprise risk management is a key area that every well-established company should take seriously. This is especially true considering the sheer number and variety of threats and vulnerabilities discovered almost daily.
Successful IT enterprise risk management needs qualified and experienced professionals. ISACA's CRISC is a high-level certification program that allows professionals to build a greater understanding of the impact of IT risk and how it relates to organizations.
Not unlike the actual job of an IT risk manager, passing ISACA's CRISC is not an easy endeavor. The CRISC certification was designed for professionals skilled in the management of IT risk, and the design, implementation, maintenance and monitoring of IS controls. The exam includes 150 questions, divided into four domains, and must be completed in less than 4 hours. Once the CRISC exam is successfully beaten, candidates are still required to give proof of at least 3 years of work experience managing IT risk by implementing IS controls and designing, including experience across at least 2 of the 4 CRISC domains.
ISACA CRISC Exam Summary
ISACA CRISC Exam Syllabus Topics:
Domain 1: IT Risk Identification -> 27%

Domain 2: IT Risk Assessment -> 28%

Domain 3: Risk Response and Mitigation -> 23%

Domain 4: Risk and Control Monitoring and Reporting -> 22%
If you wish to become an skillful IT risk manager, the CRISC is one of the best certification choices available. Here are a few practical tips to help you achieve your CRISC certification.
1) Read ISACA's Exam Candidate Information Guide First
The ISACA Exam Candidate Information Guide gives lots of practical information for the exam, including relevant topics such as exam registration, deadlines and key applicant details for exam-day administration. It even has significant information such as the exam domains, the number of exam questions, its length and the languages available. No applicant should take the ISACA CRISC exam without reading this guide.
2) Choose the Best Resources
Begin preparing for your exam by checking ISACA's official CRISC Exam Resources and reading the CRISC Review Manual. As most applicants that have successfully made this certification would tell you, it is a must read.
The manual is available in e-book and hardcopy format. It is arranged according to CRISC's four job practice areas: IT risk identification, risk response, IT risk assessment, and mitigation and risk and control reporting and monitoring.
Each chapter is also divided into two sections allowing for focused study sessions. The first section of each chapter includes basic information like objectives and definitions, task and knowledge statements, basic self-assessment questions, answers and explanations and resource suggestions for farther study. The second of each chapter consists of reference material and content that advances the knowledge statements.
Candidates using the ISACA CRISC Review Manual can be sure of one thing: The answer to every question on the actual exam is somewhere amongst its pages.
Use EDUSUM's CRISC Practice test. It carries actual exam questions and is prepared by the experts after an in-depth analysis of the ISACA CRISC exam. You can easily Get the Practice Exam in your digital gadgets. Online Mock Test allows you to test your learning and self-evaluate your ISACA CRISC exam preparation.
3) Join ISACA CRISC Community
The CRISC Exam Study Community is an excellent place to get linked with other candidates and share study methods, information about study resources and what to expect the day of the exam.
As usual, it is essential to verify the credibility of any source you are using, including your chosen CRISC online community. For instance, if you are looking for a formal definition of a concept that is covered in the CRISC exam, the best way is using official material, e.g., guidelines, books, and other official publications. But, if you are looking for comprehensive advice, posting your question to an online forum such as Reddit can be pretty useful.
One terrific way of using the study community is checking for post-exam success stories, as most of them will be full of practical tips or even carry the full strategy that was used. This may help you know the exam from several various perspectives; posts can come from candidates with a little technical background or tech experts. Either way, combining different views with your background can be of tremendous value.
4) Do Not Rely on Personal Experience
Since the ISACA CRISC is designed for experienced experts, candidates are expected to have experience with IT risk and control. While in a real situation your personal experience plays an important role whenever making a crucial decision, relying on it too much during the ISACA CRISC exam can lead to failure. One of the most significant steps during your CRISC exam preparation is learning how ISACA thinks, how they ask questions and how those questions are worded. Reading the ISACA CRISC Review Manual can emit some light on this subject, but your reliable option is to use the official question and answer database and try to explain the rationale behind each question.
5) Create Your Study Plan
The CRISC exam spans four domains including a variety of various subject areas. You must make sure you have sufficient time to review each domain at least once; this involves not only studying but also completing mock exams, visiting online forums and spending extra time examining areas that need improvement.
Without sufficient planning, your chance of success will drop. Creating a study plan that fits your requirements is essential; even a simple to-do list can help a lot. For your custom study plan, you should consider factors such as:
1) How much time can you devote to your study efforts?
If you are already working, or have other commitments, make sure you can dedicate sufficient time to the basics, such as covering all exam topics, taking practice tests and reviewing exam simulations.
2) How much can you spend on preparation material and training courses?
Look for official, certified study materials and training to make sure you have a thorough understanding of each topic covered in the exam. A great option is getting the official review manual and reading it early on; this will create a solid basis for further skill development using your choice of training methodology.
3) What training method best suits you
Some people prefer self-learning, while others think there is no substitute for the classroom. Other candidates find CRISC training helps them study on-the-go, at any time. Use your past learning experiences to help you pick the method to help you prepare best.
4) How well acquainted are you already with the exam subjects?
Even very experienced professionals, with great knowledge about the certification subject, can have a hard time during the examination. Your personal experience can save you some study time, but you should take into consideration factors such as the exam question and length logic. Relying too much on experience alone is a bad strategy that will likely lead to bad results.
5) Have an Exam-Day Preparation Plan
Before exam day, your main focus should be on not depleting yourself and being at your best during the exam.
A few things to remember:
1) Is your CRISC exam kit ready?
Check the candidate guide to make sure you have everything you require for the day of your ISACA CRISC exam. This may sound silly, but some applicants fail to even attend the test for not fulfilling essential requirements like giving enough identification. You may also want to call your test center to verify you understand the needs.
2) Are you calm and well rested?
Many candidates fail because of mental and physical exhaustion. Staying up late doing a last round of study may sound intriguing, but last-minute reading is usually not a good thing, and may even leave you worried. If you think it is essential to do a final review, do a selective reading instead. Also, do not focus solely on weaknesses. If you haven't mastered a specific topic until now, you may prefer to focus on improving the areas where you're right. An excellent tool for selective reading is using summaries or glossaries, which have lots of valuable information, some of which you may have missed during your study time as for the physical side, ingesting of alcoholic beverages is a really bad idea. If your ISACA exam is during the morning, having a balanced breakfast and drinking plenty of water is a beneficial way to make sure you are at your best. If it is during the afternoon, have a light lunch.
3) Did you make the required arrangements to be on time at the test site?
Applicants may not be admitted to the site if they are late. If you are using public transportation, double check the best routes if you are driving to the exam site, make sure you know where to park beforehand.
7) Clear Your Mind
Here are some last-minute tips to remember on exam day:
1) Be aware of the time.
During the exam, you may reach a high level of attention. I like to call "the zone." This means a greater focus, which is good for problem-solving but can cause you to lose track of time. What may seem like seconds can be valuable minutes; hours tend to clear at a very fast rate, so make sure you have time to go through every question on the exam.
2) Take some time reading the CRISC questions.
Even with limited time, it is essential not to rush. Take your time, pay attention to each question and answer option and make sure you know what is being asked. Watch for distractors in multiple-choice questions that can be directly eliminated. It is also necessary to pay close attention to terms such as LEAST, NOT, MOST, ALL, ALWAYS, and NEVER since they can solely change a sentence. Remember, questions that ask you to pick the best answer may have more than one right option. You must be able to know and select the most suitable answer for the given situation.
3) Try to relax.
Remember to relax and stretch your muscles during the exam. A relaxed mind can help you to solve tough questions.
4) Remember, there is no reason to panic.
Remaining calm will increase your concentration. If you followed your study plan perfectly, your results would likely be great; if not, you will have a lot more experience during the next try!