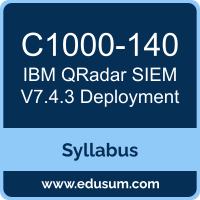 Use this quick start guide to collect all the information about IBM QRadar SIEM V7.4.3 Deployment (C1000-140) Certification exam. This study guide provides a list of objectives and resources that will help you prepare for items on the C1000-140 IBM Security QRadar SIEM V7.4.3 Deployment exam. The Sample Questions will help you identify the type and difficulty level of the questions and the Practice Exams will make you familiar with the format and environment of an exam. You should refer this guide carefully before attempting your actual IBM QRadar SIEM V7.4.3 Deployment certification exam.
The IBM QRadar SIEM V7.4.3 Deployment certification is mainly targeted to those candidates who want to build their career in IBM Security domain. The IBM Certified Deployment Professional - Security QRadar SIEM V7.4.3 exam verifies that the candidate possesses the fundamental knowledge and proven skills in the area of IBM QRadar SIEM V7.4.3 Deployment.
IBM QRadar SIEM V7.4.3 Deployment Exam Summary:
IBM C1000-140 Exam Syllabus Topics:
Topic

Details

Weights

Deployment Objectives and Use Cases

- Review business needs
- Determine QRadar apps and content value
- Define QRadar value reporting

5%

- Determine scope and size requirements for deployment
- Plan for placement of appliances
- Determine requirements for data retention
- Determine QRadar deployment components
- Identify the need for HA and DR
- Determine licensing requirements
- Windows collection architecture

18%

Installation and Configuration

- Install QRadar SIEM
- Apply and update licensing
- Apply QRadar system Certificates
- Backup, recovery, and data retention
- Conduct initial configuration
- Configure authentication and access control

16%

Event and Flow Integration

- Define log sources
- Define and configure flow sources
- Define custom properties
- Install content extensions based on requirements
- Identify event parsing requirements

12%

Environment and XFE Integration

- Configure Assistant App and use it to manage the apps
- Establish X-Force intelligence data integration levels
- Configure Use Case Manager
- Populate and Use Asset database

8%

System Performance and Troubleshooting

- Look for R2R events
- Monitor system performance
- Check SIM audit events and logs
- Check and restart Apps as necessary
- Identify event drops, events going to storage and unknown events

13%

- Tune noisy offenses and CRE events
- Identify expensive rules and properties
- Utilize Server Discovery
- Update building blocks
- Manage and use reference data

8%

- Migrate Data
- Upgrade prerequisites
- Determine content migration strategy
- Review App Framework considerations (UBI)
- Restoring a backup
- Performing system migration

13%

Multi-Tenancy Considerations

- Define domains and tenants requirements
- Configure items which involve Multi-tenancy

7%
To ensure success in IBM QRadar SIEM V7.4.3 Deployment certification exam, we recommend authorized training course, practice test and hands-on experience to prepare for IBM Security QRadar SIEM V7.4.3 Deployment (C1000-140) exam.