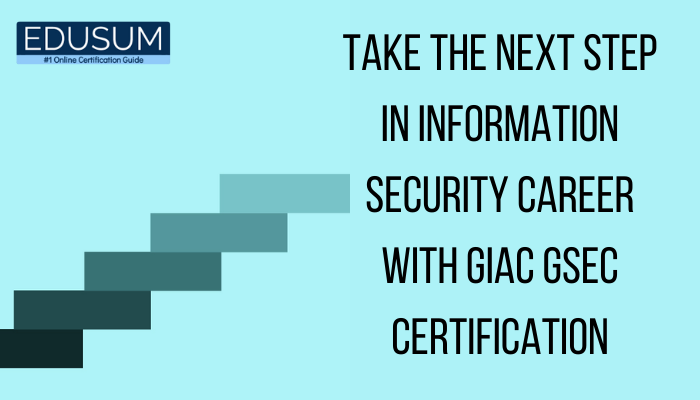 GIAC - Global Information Assurance Certification is a trustworthy certification that validates a professional's capabilities, skills, and expertise to integrate and employ information security (IS) practices in any organization. The GIAC GSEC certification measures the essential skills and knowledge required to manage security responsibilities within an enterprise IT context. The GIAC Security Essentials certification needs to be renewed every four years. The GSEC (GIAC Security Essentials Certification) is a professional certification for those looking to prove technical mastery in the field of cybersecurity.
GIAC GSEC Exam Details:
Exam Name: GIAC Security Essentials (GSEC)

Exam Code: GSEC

Exam Price: $2499 (USD)

Duration: 300 mins

Number of Questions: 106-180

Passing score: 73%
Who Should Obtain GSEC Certification?
Anyone new to information security who has some background in information systems & networking

Security professionals

Security managers

Security administrators

Forensic analysts

Penetration testers

Operations personnel

IT engineers and supervisors

Auditors
Tips to Pass the GIAC Security Essentials (GSEC) Exam
For the GIAC GSEC exam preparation, you need to study for at least four to five months. Use your time carefully and make the most out of your preparation period. It is impossible to pass the exam by last moment reading.

GIAC Security Essentials certification exam is created to gauge your skills to analyze a situation and accurately execute your knowledge.

The GIAC Security Essentials certification exam is an open book exam. Make an index of the SANS book to answer GSEC exam questions quickly.

GSEC practice tests prove to be the best source of knowledge for obtaining a sound idea of the exam format and the GSEC questions you will be confronting. GIAC Security Essentials practice exams offered by Edusum.com make you familiar with the exam environment and reduce anxiety.

Thoroughly read the GIAC Security Essentials exam questions before answering them.

GIAC exams comprise many application and analysis questions. You have to use knowledge and solve real problems concerning the GSEC certification objectives.
Is GIAC GSEC Certification Worth It?
Earning GIAC GSEC certification confirms your commitment to your profession and ensures that you're well-qualified to use the tools of your industry effectively. Taking the time and effort to pass the GIAC Security Essentials certification exam can demonstrate to potential employers that you are a continuous learner and help you acquire recognition for your commitment to constant learning and career development. The prime benefits of GIAC GSEC certification may include:
Enhanced Ability to Compete

Proficiency

Big Paycheques

Improved Knowledge and Skills

GSEC Certification Boosts Professional Credibility
1. Enhanced Ability to Compete
When you pursue GIAC Security Essentials certification, you are giving yourself a launching pad that your competition may not have. This can make you excel among other candidates during a job interview and even be the deciding factor in getting promotion in present organizations. It's vital to take every available advantage in the present competitive job market, so stay updated on the latest developments by earning the certification.
2. Proficiency
Developing a career in cybersecurity with GIAC GSEC certification that equips you with essential skills assures that you are ahead of the competition. The extra training, exclusive information, and high-level knowledge acquired throughout the GSEC exam preparation can confirm that you are the best fit for employment. In a nutshell, earning GIAC Security Essentials certification helps you to maximize your proficiency.
3. Big Paycheques
Salary raise is the most immediate benefit you can relish once you earn the GIAC GSEC certification. Not only will you be employed in a higher position (that comes with bigger paycheques), you can look forward to making greater salaries and incentives in the future.
4. Improved Knowledge and Skills
Remaining relevant with the latest trends and technology can help you smoothly integrate new techniques and processes into your daily routine. Making an effort to enhance your knowledge and skills can help you to stay ahead of others in your field in the context of both expertise and skills.
5. GSEC Certification Boosts Professional Credibility
GIAC certifications are globally renowned. Hiring managers not only consider GIAC Security Essentials certification proof of your professionalism and compliance with the utmost industry standards, but it also indicates that you're yearning to keep learning. These features can help enhance your professional credibility within your professional network, with your organization, and in your industry on the whole.
Conclusion
GIAC Security Essentials certification is among the highest paying certifications in the IT field. If you intend to advance your career in the IT field, you must give your best in passing the GSEC exam.